AFP: The Maldives announced Wednesday it is seeking former president Mohamed Nasheed's arrest for failing to return to the troubled archipelago to complete a prison sentence after receiving medical treatment in Britain.

Nasheed, the Maldives' first democratically elected president, recently won political asylum in Britain after being granted permission to travel there for treatment while serving the sentence for a terror-related offence.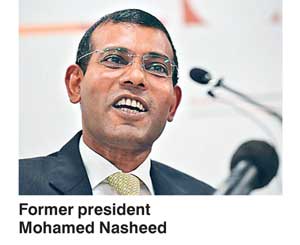 "A court order (has been) issued for arrest of former president Mohamed Nasheed," the government said in a statement, issued after Nasheed flew to neighbouring Sri Lanka.

"The Maldives correctional service is seeking to have him brought back to serve the remainder of his 13-year sentence," the statement said, without detailing how it planned to seek his return.

Opposition sources said Nasheed has been meeting Maldives opposition groups in Sri Lanka in recent days to hatch a plan to topple the archipelago's president Abdulla Yameen.

Nasheed was among members of several exiled opposition groups meeting in Colombo, two people in Nasheed's Maldivian Democratic Party have told AFP.

The Maldives has been gripped by political turmoil since Nasheed was forced to resign in 2012, denting its image as a paradise for upmarket tourists.

The international community has mounted fierce criticism against what they say is Yameen's unlawful jailing of Nasheed and other opponents.

Nasheed, a climate change activist who was also imprisoned during the three-decade rule of former strongman Maumoon Abdul Gayoom, was elected president in 2008. He rose to international prominence when he hosted a cabinet meeting underwater to draw attention to the threat global warming posed to the atoll nation's existence.

But he was forced to resign in February 2012 after a mutiny by police and troops, which followed protests over the arrest of a top judge for alleged corruption, as well as for politically motivated rulings.

Yameen, a half-brother of former strongman Gayoom, won a presidential election run-off against Nasheed in late 2013.

Nasheed was sentenced to prison in March 2015 after being convicted on a charge of terrorism for having the judge arrested.

US Secretary of State John Kerry warned in May last year that democracy in the Maldives was under threat, saying Nasheed had been "imprisoned without due process".

In June, Yameen's former deputy Ahmed Adeeb was jailed for 15 years on a charge of plotting to assassinate the president.

Sources close to Nasheed said he was "keen" to discuss the Maldives turmoil with UN Secretary-General Ban Ki-moon, who is due to arrive in Colombo late Wednesday on a two-day visit for talks with Sri Lankan leaders.

"He would be keen to meet with Ban Ki-moon," a person close to Nasheed said, adding that no formal request for a meeting has been made.