Premier speaks about UNP-SLFP National Govt. deal in interview with The Hindu
SLFP hostage to UPFA and personality cults: PM
Says CBK can help to resolve Tamil question
Explains 'no-crossover' clause in UNP-SLFP MoU
Returning Prime Mini-ster Ranil Wickremesinghe hailed President Maithripala Sirisena and former President Chandrika Kumaratunga, for their 'moderating influence' on the Sri Lanka Freedom Party that had been in thrall to personality cults within the UPFA.

"I think they are spearheading a movement to revive the SLFP brand," Wickremesinghe said in an interview with The Hindu newspaper soon after his election. The Prime Minister said the SLFP was currently suffering the consequence of submerging their identity in the UPFA. "We, the UNP, never gave up identity; we may have alliances but we never gave up identity," he explained in the interview.

Former President Kumaratunga was heading the Office for national unity and also playing a leading role in the SLFP, Wickremesinghe noted. "She chaired the committee which drafted the MoU from their side," he said.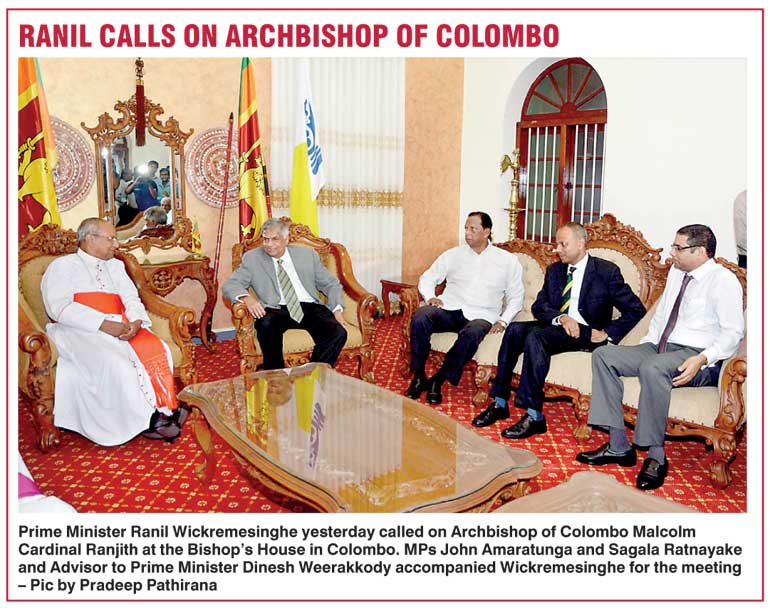 The new Prime Minister also acknowledged that Kumaratunga had played a role in helping to forge a political solution to the Tamil question. Wickremesinghe explained that the new UNP Government had decided not to engineer defections from the SLFP to boost their seats in Parliament.

"We decided that wouldn't be the way. We could have got 10 or 15 people over from the other side but then again, it would have put the President in a very, very embarrassing position," he said.

The Premier said that cooperation with the SLFP would be far more advantageous to the UNP than getting 15 SLFP members to cross over.

"We are trying to set a national framework for at least the next 10 years. We didn't have an overall majority in Parliament. But then we had to have a working system. I didn't want to be fighting for every piece of main legislation. It's better we agree and get this through and see how it works out. If it succeeds, everyone will be on board. If it doesn't succeed, people will go their own way," the Prime Minister said. (DB)