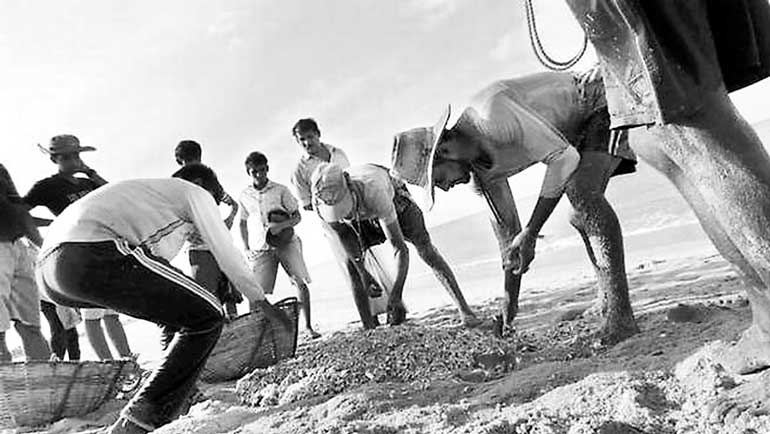 By Meera Srinivasan

The Hindu: Although New Delhi and Colombo have expressed satisfaction over recent bilateral talks on the Palk Bay fishing conflict, northern Sri Lankan fishermen say a much-needed long-term solution remains elusive.

Following resistance from the fisherfolk and some efforts taken by the two governments, the number of Indian trawlers coming into Sri Lankan waters has reduced, observe fishermen. However, fully resolving the crisis requires greater political will from the two governments and sympathy from fisher leaders in Tamil Nadu, they emphasise.

"The talks are simply dragging without any major decision. This delay is only to the Indian fishermen's advantage, because they somehow get the extension they wanted," says Mannar-based fisher leader Mohamed Alam, referring to Tamil Nadu fisher leaders' earlier demand for three more years to phase out bottom trawling, which Sri Lanka rejected.

"Our brothers in Tamil Nadu must realise that the sea is our only means to livelihood. Unless they appreciate our plight, nothing will change," says Alam, sounding dejected.

His pessimism is not without reason. Having tried to negotiate with his Indian counterparts since 2010, he has only seen discussions proving futile. The Tamil Nadu trawler owners refuse to stop using the destructive fishing practice, pointing to the many thousands that it feeds in their community. Emerging from the ashes of a brutal civil war and trying to rebuild their lives, the Sri Lankan fishermen find their Tamil Nadu counterparts' economic interests competing fiercely with theirs.

In yet another attempt to solve the problem, the two countries set up a Joint Working Group in November 2016, and appear to be taking steps to tackle it. India has assured Sri Lanka of phasing out bottom trawling. The central and state governments have begun investing in fishing harbours in Tamil Nadu to help fishermen switch to alternatives.

Following the latest round of talks in Colombo earlier this month, officials from both sides expressed optimism in solving fisheries crisis facing the region. "The positive initiatives are welcome, but they may not be sufficient. We cannot get carried away," stresses Alam, speaking to The Hindu at his home in Mannar town.

Releasing trawlers

On Tamil Nadu fisher leaders' demand that their trawlers — detained by the Sri Lankan Navy — be released, fisher leaders here say they have conveyed their views to the Fisheries Minister. While fisher leaders appear agreeable, although with some conditions, sources in Colombo say a final decision is likely to be taken before Prime Minister Narendra Modi's scheduled visit to Sri Lanka in May. There are currently 151 Indian vessels in Sri Lankan custody, seized since 2014.

The Sri Lankan Navy is inconsistent in seizing Indian trawlers found poaching, says Mullaitivu fisher leader Antonypillai Mariyarasa. "Even if we spot Indian trawlers near our coast and report it to the Navy, they don't take action at times. They say there is no place to park the confiscated boats."

The fishermen here are under great financial pressure, as trespassing Indian trawlers are not the only troublemakers in this war-battered district. More recently, fishermen here are facing stiff competition from the island's south and western districts, with some fishers seasonally migrating to their north-eastern coast.

"No fisherman is our enemy. All we are saying is, let us fish in our waters, let us live," Mr. Mariyarasa says, at his cooperative's newly-renovated building in Mullaitivu.

Caught in-between

While the concern over vanishing livelihoods binds nearly 2 lakh fisherfolk of Sri Lanka's Tamil-majority north some, like fisher folk in Delft, face peculiar challenges. Off Jaffna peninsula and connected by a ferry, Delft island or Neduntheevu is possibly one of the closest inhabited islands to Rameswaram. "Almost all of us went to Tamil Nadu as refugees after supplies to our island were cut in the 1990s during the war," says V. Anton Thayagaran, who leads a fishermen's association in Delft.

It is around Delft that Indian trawlers would often be found, prompting the Sri Lankan navy to arrest the fishermen and confiscate vessels. The number of such trawlers trespassing has come down, say fishermen. At least they are not as regular as before. But they have bred a new problem locally. Some Jaffna and Mannar fishermen have started operating banned fishing vessels, citing Indian trawlers as reason.

"Small-scale fishermen like us get crushed from all sides," he says, watching his friends mend fishing nets at a dim-lit shelter by the sea.