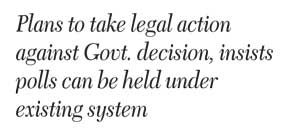 By Chamodi Gunawardana

The Joint Opposition yesterday claimed the Government's move to extend the terms of office for 23 local government bodies by six months was against election law.

President Maithripala Sirisena announced Saturday that the Government has decided to extend the terms of office of every local government institution which had not been dissolved yet.

In response, MP Udaya Gammanpila said the Joint Opposition expects to take legal action against this decision of the Government.

"The Government dissolved some local government bodies which expired last March. Those institutions were handed over to a commissioner's administration and it violated the fundamental rights of all people who were governed under those bodies," he charged.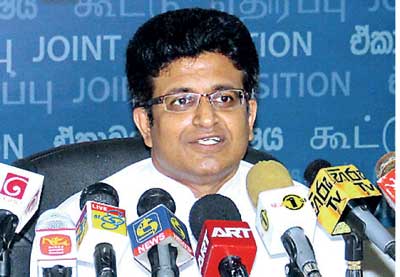 Challenging Minister of Local Government and Provincial Councils FaizerMusthafa, Gammanpila claimed he would like to invite him for an open debate to discuss the accuracy of the decision to extend 23 local government bodies without announcing an exact election date.

"I can point out what exactly is mentioned in local government election law and how the Government was violated the law. Whether the minister comes to the debate or not we will take legal action against the Government," Gammanpila stated.

President Sirisena mentioned the extension decision was taken to facilitate the upcoming amendments of the electoral system of local governments. However, Gammanpila claimed the Government should not undermine the rights of the general public by postponing the election.

"We believe it is much better if the Government conducts the forthcoming local government polls under the same Proportional Representation system (PR) until the new electoral system is introduced," he said.

Commenting on the remarks made by the cabinet spokesman, Minister Rajitha Senaratne on Thursday regarding the election in June, Gammanpila claimed "If Rajitha said something will happen it will never happen."