By Chamodi Gunawardana

The postponement of the local government election was an 'election gambit' of President Maithripala Sirisena and Premier Ranil Wickremesinghe, charged the Janatha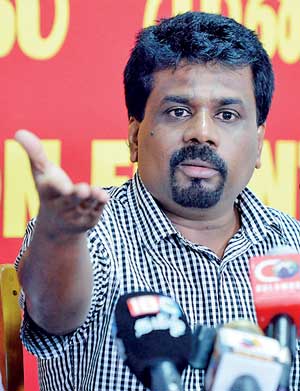 Vimukthi Peramuna (JVP) yesterday.

JVP Leader Anura Kumara Dissanayake claimed they both wanted to defend their parties for their own interest by delaying the election.

"President Sirisena is scared to hold the LG election because he knows the Sri Lanka Freedom Party (SLFP) will be defeated if it contests as it would result in the separation of the Rajapaksa and Sirisena backers. Wickremesinghe also knows the United National Party (UNP) will never win with its present unsuccessful administration," he alleged.

Dissanayake stressed both reasons were different but their ultimate target was to delay the election until they are able to win.

Drawing comparison between present and prior Governments, Dissanayake claimed former President Mahinda Rajapaksa was defeated because he manipulated elections for his own interest.

Dissanayake asserted the Government can hold upcoming LG polls under the existing electoral system until it introduces a new electoral system via the next Constitution.

However Minister of Local Government and Provincial Councils, Faiszer Mustapha earlier insisted the Government could not hold the election until the delimitation process ends and stressed that holding LG polls without determining accurate delimitations would be a betrayal of voters.

However Dissanayake charged the Government has intentionally created dramatic scenarios to delay the election in order to hide the real reasons for postponement.

He also noted JVP will take legal actions against the Government and stage protests if the party is unable to participate in the LG election as soon as possible.