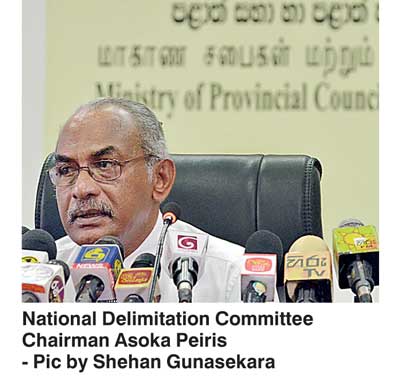 By Chamodi Gunawardana

Hinting that Local Government (LG) elections could be delayed further the Elections Commission yesterday said a number of changes required for the delimitation process to be completed are beyond the mandate of the appointed committee and would have to be included in an Act of Parliament.

National Delimitation Committee Chairman Asoka Peiris told reporters that a further delimitation of five districts is yet to be finalised for the report to be submitted to the Minister on or before the end of October.

Peiris highlighted that renaming of electorates, demarcation of new electorates and wards fall outside of the mandate of the National Delimitation Committee and will have to be processed through an act of parliament.

The committee has already identified 58 amendments to the Local Authorities Elections (Amendment) Act, No. 22 of 2012 and should be passed through parliament before the declaration of the next LG polls, he said.

According to Peiris, some electorates such as Walimada and Badulla should be further divided to ensure all geographical areas of the district belong to an election ward. He highlighted that certain parts of these electorates have been left out in the earlier gazette notification.

"We have already identified 14,222 Grama Niladari Divisions and we should discuss with the people of those areas to finalise the delimitation," he said.

Commenting over the ongoing progress of the delimitation process, Peiris said that five more districts including Nuwara Eliya, Matale, Kilinochchi, Mullaitivu and Mannar to conclude discussion over the final delimitations.

"We expect to visit these districts wit in the next two weeks and to conduct discussions with residents and political party representatives to check whether the marked boundaries are accurate," he stated.

Peiris further said that after completing this task the committee would coordinate with the Survey Department to draw up maps to reflect the new boundaries.

"We have to develop maps for all the electorates, which will then have to be translated into English and Tamil. A review of the maps will follow to avoid any errors. Previous committees had not conducted such reviews and as a result missed one Grama Niladari Division in the Nuwara Eliya District," Peiris said.

Minister of Local Government and Provincial Councils Minister Faizer Musthapha promised to take immediate action to solve the issues that fall beyond the mandate of the committee within a month after receiving the report.

"I will complete the rest of the delimitation process which is outside the mandate of the delimitation committee and I will table the relevant documents in the Parliament for approval. Then the Election Commissioner can hold the election within 55 to 77 days after the date the polls have been declared," he noted, assuring that elections will be held within the first quarter of the next year.