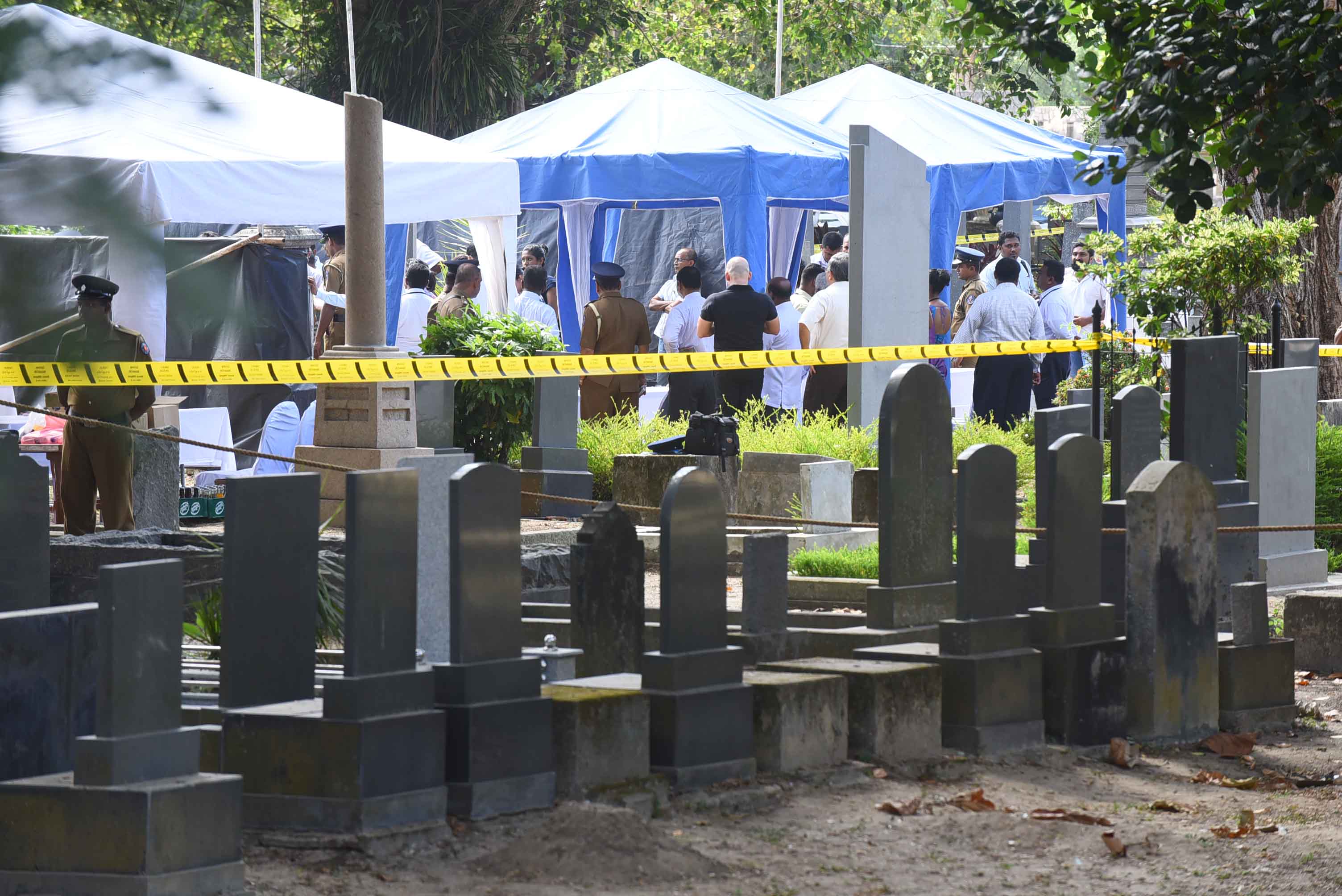 By Dharisha Bastians

The body of Sunday Leader Editor Lasantha Wickrematunge was exhumed for a fresh autopsy yesterday, nearly eight years after he was brutally slain on the streets of the capital at the height of the war.

Swarms of police personnel hovered over the gravesite in a corner of the Borella Cemetery which was in lockdown during the exhumation process which concluded at noon. White and blue tents were erected in front of Wickrematunge's grave, for a magistrate and plainclothes police personnel to inspect the exhumation by forensic investigators. Colombo Additional Magistrate Mohammed Mihal oversaw the exhumation which took place behind a curtain of black plastic to shield the proceedings from the street outside the cemetery fence.

Proceedings halted briefly after police spotted a drone camera and tried to locate the controller of the remote device which was flying over the open gravesite during the exhumation. Media personnel were prevented from entering the cemetery until the exhumation was concluded, on a special request by the family for privacy.

Wickrematunge's remains were transported to the Office of the Chief Judicial Medical Officer in Colombo under tight security. The examination into Wickrematunge's remains was set to begin at the JMO Office at 1.30 p.m. yesterday, with a new report expected within a month. The former editor's remains will be reburied once the investigations are complete, Attorney Athula S. Ranagala, a lawyer for the family told reporters at the cemetery.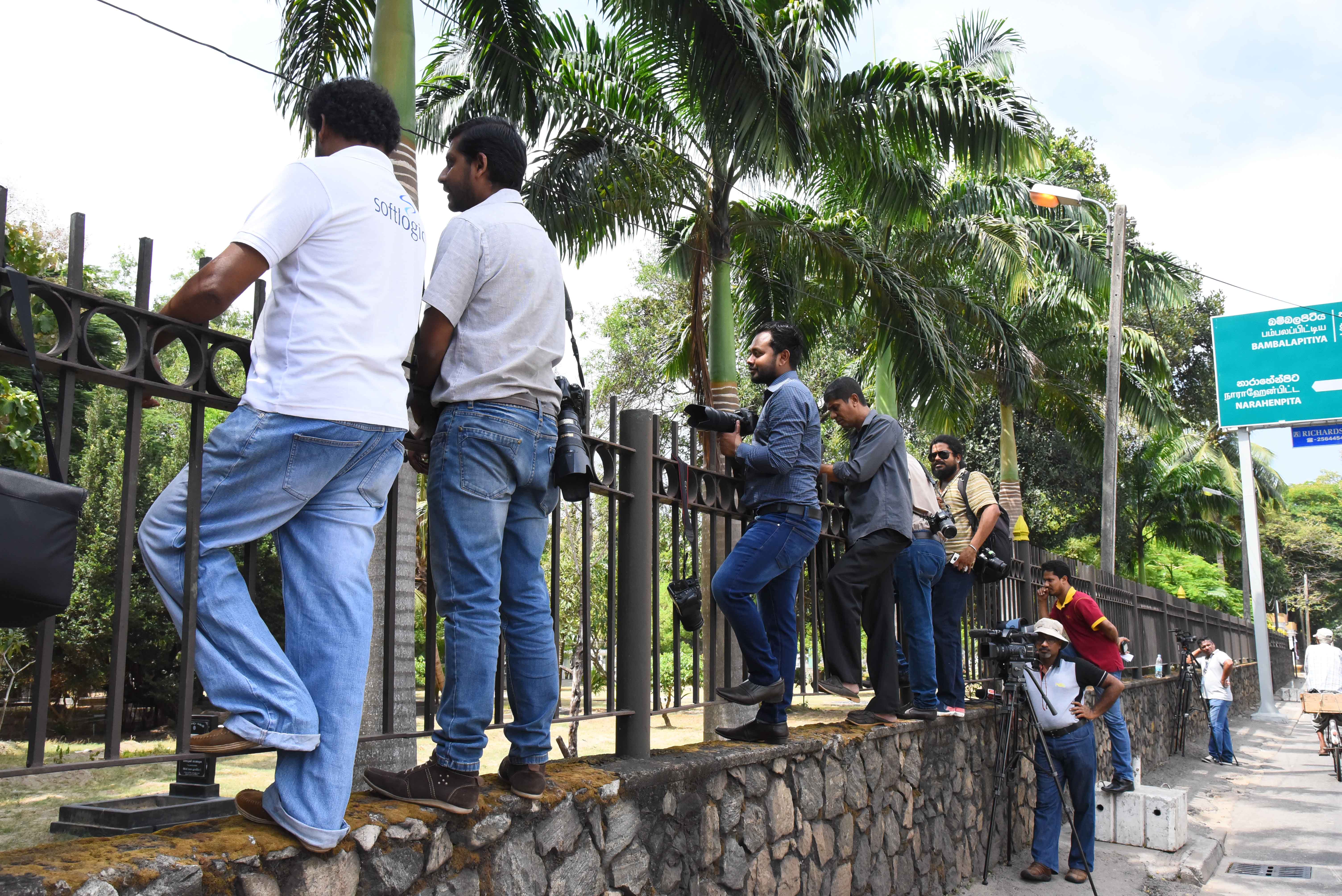 "A magistrate and a team of doctors supervised the exhumation," Ranagala told journalists from behind the iron bars that fence off Colombo's main cemetery. The lawyer representing the interests of Wickrematunge's family said they had requested controlled media access during the exhumation to prevent further trauma for his three children.

A fresh autopsy of Wickrematunge's body was necessary to determine the exact cause of death after two previous medical examinations had produced contradictory reports, the CID which has taken over the investigation into the prominent journalist's killing told the Mount Lavinia Magistrate's Court earlier this month.

Wickrematunge, who was killed by unidentified gunmen as he drove to work on 8 January 2009, was a fierce critic of the Rajapaksa Government and ran a stridently anti-establishment newspaper. At the time, his murder sparked international outrage and highlighted the Rajapaksa regime's deteriorating rights record and its war against the independent press.

Yesterday's exhumation process is part of a fresh investigation into Wickrematunge's death that commenced after the fall of the Rajapaksa regime in January 2015. Two months ago, a military intelligence official, P. Udalagama, was arrested in connection with the high profile murder, raising serious questions about the role of the defence establishment in hunting critics and journalists when the former Government was in power. Military intelligence personnel have also been arrested as suspects in several other high profile cases, including the disappearance of journalist Prageeth Ekneligoda and the attack on former Rivira Editor Upali Tennakoon.

Since the exhumation order was granted on 9 September, Wickrematunge's grave has been under armed police guard to ensure the remains were undisturbed.

Witnesses to the exhumation said the remains were well preserved and surfaced after labourers dug about three feet into the grave.

In the absence of family members, former Sunday Leader journalists Mandana Ismail Abeywickrema and Dilrukshi Handunetti, and Nirmala Kannangara, a reporter who still works for the newspaper Wickrematunge founded, acted as witnesses to the exhumation.

"I had to identify the body - it was one of the most difficult things I have ever done," Abeywickrema said, shortly after the exhumation was concluded.

"I knew Lasantha as a lively bundle of mischief – to see him like this was so hard. It also made me very angry that we have had to wait so long for justice and even now he is not allowed to be at peace," said Abeywickrema, who briefly served as editor of The Sunday Leader last year.

She said the fresh probe into Wickrematunge's death was also creating some hope that his killers would finally be brought to justice. Since military intelligence officials had been arrested in connection with the murder, Abeywickrema urged police sleuths to question the leaders of the security establishment and former military officials to determine the truth about why the senior journalist was murdered.

Wickrematunge had been killed in broad daylight at the height of the war, just five months before the Government defeated the Tigers, when security in the capital was at its highest, Abeywickrema explained.

"They need to find the people who pulled the trigger. But they also need to find out who gave the orders to pull the trigger," she said.

The Free Media Movement has condemned the police for "irrational action" in barring journalists from witnessing the exhumation, although the statement makes no mention of the fact that the family had specifically requested privacy during the proceedings. The FMM said there was no judicial directive to prevent the media from covering the exhumation and urged transparency during the new investigation into Wickrematunge's killing.

However, journalists were also prevented from getting close to the gravesite during the exhumation of Wasim Thajudeen's body, after a court ordered a fresh autopsy in that case too when police cited flawed JMO reports. Media personnel were only permitted to enter the area once the remains were removed from the cemetery.

Wickrematunge was the most senior journalist to be murdered in Sri Lanka, with international media watchdogs ranking the country as one of the most dangerous places in the world for journalists during Rajapaksa's nine-year rule.

Wickrematunge's newspaper stood out as a strong critic of the Rajapaksa Administration's war against the LTTE, consistently raising concerns about human rights violations and the brutal tactics being employed in the embattled regions during the Government's push against the Tigers. In the months preceding his death, Wickrematunge published a series of exposes on an allegedly corrupt deal to purchase MiG 29 aircraft for the Sri Lankan military which earned the wrath of the defence establishment at the time.

His death struck a near-fatal blow to press freedom in the country, with journalists and media organisations falling in line and adopting self-censorship to prevent reprisals from the ruling regime.

Pix Kithsiri de Mel