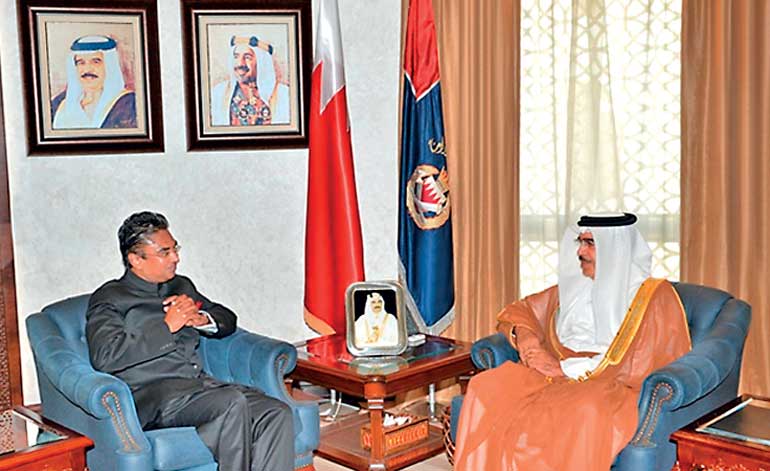 The Ambassador of Sri Lanka, Dr A. Saj U. Mendis, met with the Minister of Interior of the Kingdom of Bahrain Lt-General Shaikh Rashid bin Abdullah Al Khalifa recently, in order to discuss significant and seminal developments in the sphere of security and cooperation in security in the region as well as in the respective countries. Bahraini Minister of Interior Lt. Gen. Rashid bin Abdulla Al Khalifa has been a highly senior member of the Cabinet of Ministers of the Government of the Kingdom of Bahrain. The Ministry of Interior is of utmost importance for stability, security and solidity of the country, which in turn makes a direct impingement on socio-economic and commercial advancement and augmentation of the country.

Ambassador Dr Mendis conveyed the greetings and wishes of the Government of Sri Lanka to the Minister of Interior and enunciated that the two countries have been maintaining friendly, cordial and genial relations well before the formal diplomatic relations were established in 1992. Both the Minister and the Ambassador agreed that the issue of security and stability of any given nation is of extreme significance and criticality not only for development but also for peace and harmony between and among the peoples and the nation states.

The cordial and focused discussion with the Minister of Interior lasted for well over an hour at the Ministry. The discussion encompassed a myriad of issues ranging from extremism to fundamentalism and regional security to international security as well as geo-political to geo-economic dynamics, among others. Minister Lt. Gen. Rashid Al Khalifa is in-charge of law enforcement, Police, public safety, training of personnel and Royal Academy of Police, among others.

The Minister of Interior suggested that in order to further widen and deepen the bilateral relations between the two countries, he wished to witness more high level exchanges including of Ministerial and senior most technocrats between the two countries, which would also mutually enrich both the countries with exchange of knowledge and know-how. The minister added that Sri Lanka is on a rapid economic trajectory and peace and stability are imperative to sustain economic advancement.