'Goal is to keep up with market competition' - Bathiudeen
All area managers now equipped with laptops
LS Managers can now place instant stock re-orders
'CCTVs also coming' - Bathiudeen
​Sri Lanka's largest State-owned retail store chain commenced its long-awaited high-tech journey on 28 July and the Minister in charge says the step-by-step digital transformation is part of the modernisation of the huge retail network.

"We are now working on modernising and computerising the Lanka Sathosa network," said the Minister of Industry and Commerce Rishad Bathiudeen in Colombo.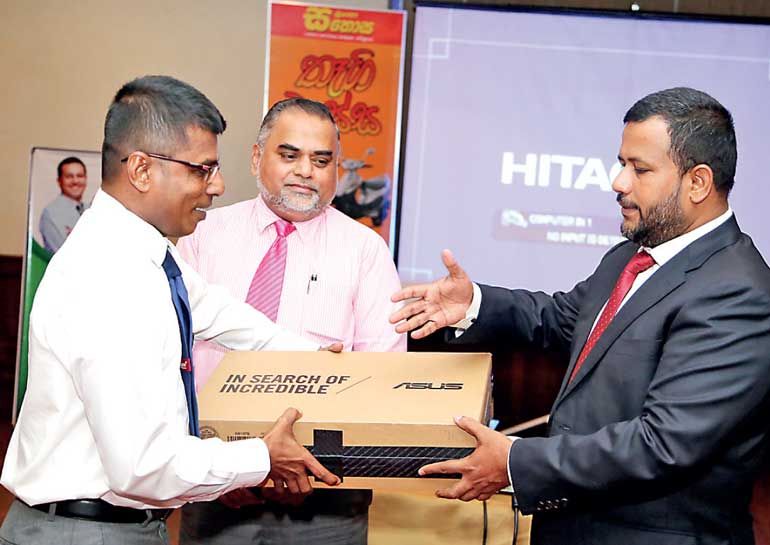 Minister of Industry and Commerce Rishad Bathiudeen hands over a laptop to a Lanka Sathosa Area Manager on 28 July as CEO Dr. Shaul Hameed Mohamed Faraaz (centre) looks on
Minister Bathiudeen was addressing the launch event of Lanka Sathosa-Reckitt Benckiser Sri Lanka 'Tegi Wessa' (Gifts Rain) joint promotion event at Colombo's Grand Oriental Hotel on 28 July where he also distributed laptops to all Lanka Sathosa area managers.

The laptops will be used by the Area Managers for instant demand forecasts and stock re-orders or renewals for their outlets from the Lanka Sathosa central warehouse system.

"I am pleased to join another public-private partnership event by Lanka Sathosa today," said Minister Bathiudeen.

"The vision of the unity government is to safeguard the Lankan consumer. We will also fix CCTVs to reduce losses. The laptops we are distributing to the Area Managers today are part of Lanka Sathosa's modernisation efforts to bring the network up to the standards of competition seen in our retail market. Lanka Sathosa plans to open 8,000 franchise outlets with SME businesses in the coming year. We are also expanding the present the present branch network to 500."

Lanka Sathosa's annual sales turnover is now around Rs. 30 billion. Almost 93% of its expenditure in 2016 was spent for capital development projects. It plans to open 8,000 franchise outlets with SME businesses in 2018 while expanding its present 380 branch network to 500 by December 2017.