The Executive Director of the Lakshman Kadirgamar Institute (LKI), Dr. Dinusha Panditaratne, has been invited to join the Asia-Pacific Leadership Network (APLN) for Nuclear Non-Proliferation and Disarmament.

The APLN aims to inform and energise public opinion, especially high-level policymakers, to take seriously the very real threats posed by nuclear weapons, and to do everything possible to achieve a world in which they are contained, diminished and eventually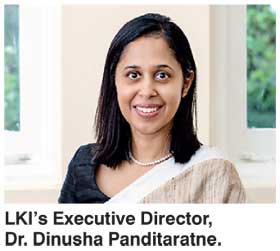 eliminated. The APLN works together with comparable leadership networks in Europe, Latin America and the United States, all of which are supported by the Nuclear Threat Initiative (NTI).

The APLN includes approximately 80 invited members from 15 countries across Asia and the Pacific, consisting of former political, official and military leaders in senior executive positions as well as opinion leaders and shapers from other sectors of society. Dr. Dinusha Panditaratne is one of three members from Sri Lanka, along with Ambassadors Jayantha Dhanapala and H.M.G.S. Palihakkara.

APLN members contribute to the nuclear debate by making public statements from time to time, engaging in direct advocacy with regional governments as both public and private opportunities arise, commissioning research and hosting regional seminars and conferences as resources permit. The Secretariat of the APLN is based in Seoul, South Korea.

On her acceptance of the invitation to join the APLN, Dr. Panditaratne said, "I'm honoured by the invitation to participate in and contribute to APLN. I look forward to learning from its distinguished members, and working together to fulfil its worthy mission; including to inform policymakers and energize public opinion of the threats posed by nuclear weapons, and to strive for a world in which they are contained, reduced and eventually eliminated."

As well as being Executive Director of LKI, Dr. Panditaratne is an Assistant Professor at the Chinese University of Hong Kong, where she also serves on the Executive Committee of the Centre for Rights and Justice. She was previously a Visiting Fellow at the University of Hong Kong and is a member of the International Advisory Board of the Asian University for Women in Bangladesh.

A graduate of the University of Oxford with first class honours, Dr. Panditaratne obtained her doctorate from Yale Law School. Prior to pursuing an academic path, Dr. Panditaratne practised at Milbank, Tweed, Hadley & McCloy LLP, an international law firm on Wall Street. She is the co-author of the book, 'Pathways to the Peak: Remarkable Stories from Pioneering Sri Lankan Women'.

More information on APLN is available at www.a-pln.org and further information about LKI can be obtained at www.lki.lk.