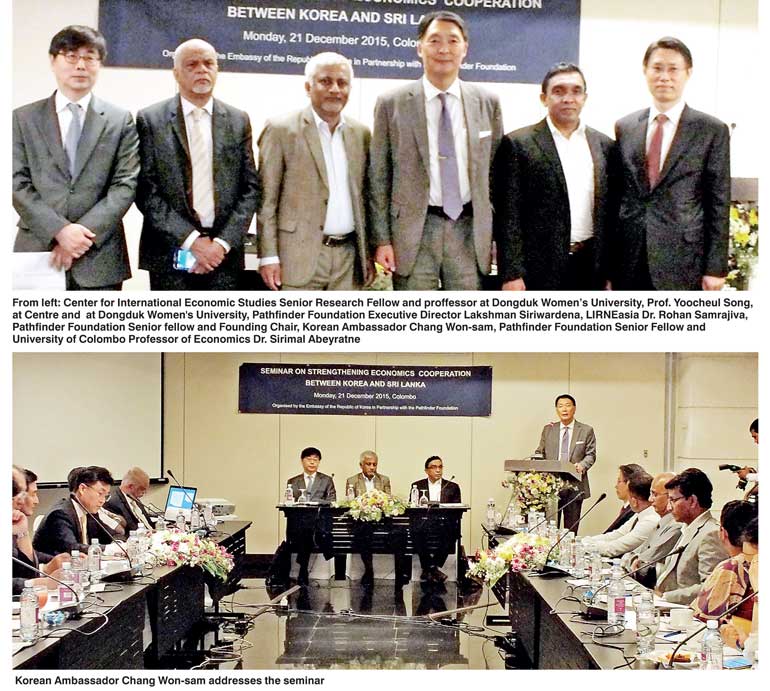 Further strengthening of state-to-state and business-to-business economic cooperation between the Republic of Korea (RoK) and Sri Lanka was the focus of a recently held seminar organised by the Embassy of Korea partnering with the Pathfinder Foundation.

This event was held 21 December at the Cinnamon Grand, Colombo. The key note speaker at this seminar was Dr. Yoocheul Song, Senior Research Fellow at Centre for International Economic Studies, Seoul and Professor at Dongduk Women's University. His analysis was based on economic modelling to ascertain the feasibility of entering into a free trade arrangement between the two countries.

At this seminar The Sri Lankan perspective was presented by Pathfinder Foundation Senior Fellow and University of Colombo Professor of Economics Dr. Sirimal Abeyratne. The discussion was moderated by LIRNEasia Founding Chair Prof. Rohan Samarajiva. Korean Ambassador Chang Won-Sam, in his welcome address emphasising the need for strengthening business – to – business and people – to – people relations expressed confidence in increasing trade and investment relations between RoK and Sri Lanka.

Among the Korean presence at the seminar was a special representative from the Korean Ministry of Foreign Affairs Kyun Jong-ho. Sri Lankan participants included senior level officials from the relevant government agencies, former heads of state institutions and private sector representatives.