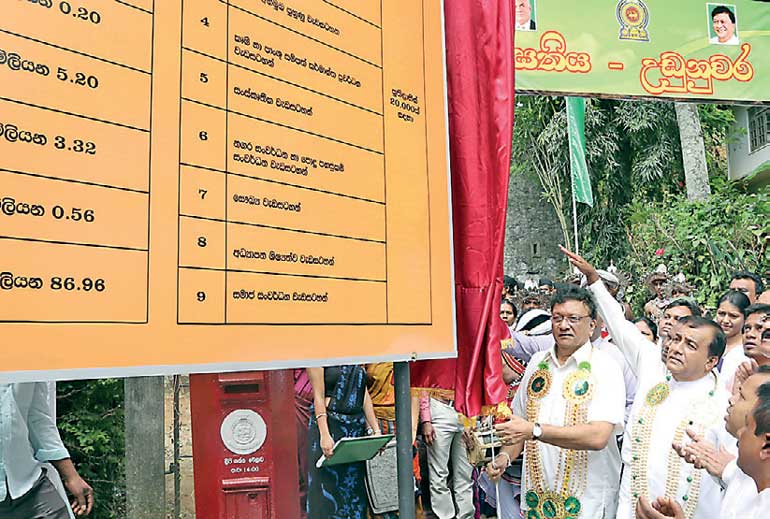 Minister of Higher Education and Highways Lakshman Kiriella this week warned that attempts at extremism by certain sections will only hamper much needed development in the country.

"We cannot reach the expected development goals as long as we stay divided over issues such as nationality, religion, party etc. We should stay clear from extremism and get together to provide a solution to the ethnic problem in our country," Minister Kiriella, who is also the Leader of the House, said at the inauguration of the second stage of the "Marga Sathi" Program in the Udunuwara Divisional Secretariat Division, conducted island-wide under the direction of the Ministry of Higher Education and Highways.

"The Good Governing Government has created an environment where all nationalities are able to live as Sri Lankan citizens. We could go forward as a country only if ethnic peace could be created as sustainable peace is necessary for a country's development. If ethnic peace cannot be created, the country's expected development goals will not be achieved. Our country requires industrial development. The country and the community have received many grants through the Government's programs," he added.

The "Marga Sathi – Gemi Pubuduwa National Development Program is one of the Government's main priority development programs where island-wide development plans are implemented. This includes the development of many areas including development of streets, health, education, agricultural consultations and infrastructure. The program which has commenced in the Udunuwara Divisional Secretariat Division pays special attention to areas such as agriculture, livestock, self employment, minor export crop, highways, irrigation, social services, education, culture, religion and vocational development. Today is the first day of the "Marga Sathi" Program. Rehabilitation of 53 roads has commenced at a cost of Rs. 70 million.

Further expressing his views the Minister stated the following. "Protests are being held against a private medical college at present. But no one protested against SAITM when it was initiated by the previous regime. Neither the lecturers nor the doctors opposed against SAITM. There was no freedom to oppose during the previous regime; they remained silent because they were afraid. A Medical Faculty was established at the Kotelawala Defence University although directions were given not to build a Medical Faculty. No one opposed this as well because they were afraid of the former Defence Secretary's gun."

"Democracy has been established by the present government today. The courts, state services, the Police have been given freedom to function independently. There are no white vans, disappearances, abductions. The people have been given their freedom. We should all get together to safeguard this freedom and take it forward."

Kandy District MPs Lucky Jayawadana and Mayantha Dissanayaka, Udunuwara Divisional Secretary Nandana Galaboda and Kandy District Secretary H.M.P. Hitisekara were also in attendance at this event.