By Chamodi Gunawardana

The Janatha Vimukthi Peramuna (JVP) yesterday demanded that the Government stop its moves to curtail subsidies, especially on fertiliser.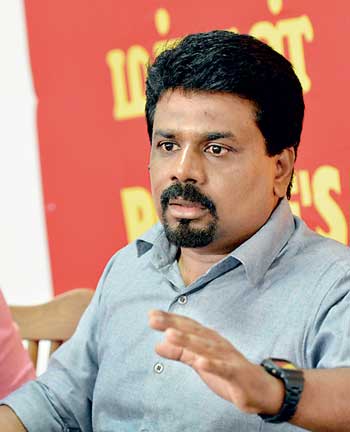 Addressing a media briefing, JVP Leader Anura Kumara Dissanayake charged the Government decision to curtail the fertiliser subsidy would demolish the paddy industry of the country.

"The agriculture sector contributes 10.5% to annual Gross Domestic Production of Sri Lanka. It plays major role in the economy. Approximately 7,000,000 people earn a livelihood from agriculture," he said.

Criticising the Government's decision to provide a cash allowance of Rs. 25,000 per hectare (two-and-a-half acres) instead of the traditional fertiliser subsidy, Dissanayaka charged it was insufficient to buy fertiliser for both Yala and Maha seasons.

President Maithripala Sirisena has directed the Finance Ministry to set a maximum purchasing price of Rs. 2,500 for a 50kg fertiliser pack. Earlier the Government proposed to offer a 50kg pack of fertiliser for Rs. 3,500 via the 2016 Budget, but the proposal was met with huge resistance from farmers.

"Both the past and present Government did not have established economic policies to develop agriculture. This has led the country's production sector into bankruptcy. Prime Minister Ranil Wickremesinghe is just focused on a service sector economy and dreaming of attracting foreign investors while local production is making losses," Dissanayake alleged.

According to the Government, the cash allowance of Rs. 2,500 is to encourage farmers to use more organic fertiliser to reduce the high usage of chemical fertilisers, said to cause kidney diseases.

But Dissanayake claimed the Government had simply given this aspect undue importance to justify its decision to curtail the subsidy.

"If the Government really cared about people, they would not cut down the traditional allowances of farmers in this manner. It should plan some effective program to overcome kidney diseases without putting farmers into trouble," he charged.

He proposed the Government should introduce a pure drinking water supply system in areas where kidney diseases are prevalent.