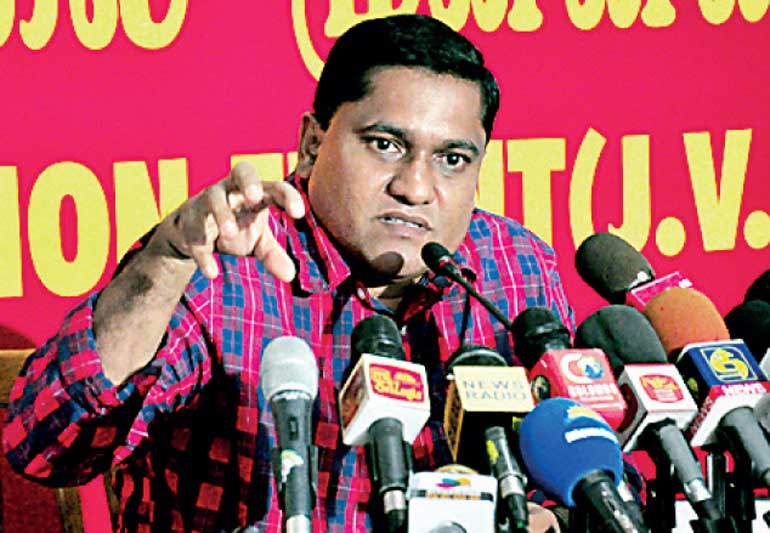 By Chamodi Gunawardana

The Janatha Vimukthi Peramuna (JVP) yesterday stressed that it would urge the Government to appoint members to the Constitutional Council before dissolving Parliament.

Addressing a media briefing yesterday, JVP Propaganda Secretary Vijitha Herath stated that the Government did not have any reason to delay these appointments.

"The Constitutional Council is the most independent authority which is formed due to the 19th Amendment. It has 10 members, comprising seven MPs and three professionals. The President, the Prime Minister and the Opposition Leader will be the other three members," Herath explained.

Herath added that after the Constitutional Council was activated, the Government should form a new Bribery Commission and conduct the pending investigations in an efficient manner.

"One Commissioner of the Bribery Commission has resigned from his position and we believe that the other two should do the same because they are not conducting any investigations at present. They are also refusing to sign the relevant investigation documents. Therefore, there is no point in keeping them any longer," Herath said.

Commenting on the forthcoming election, Herath stated that the Delimitation Commission should also be established before the election.

"President Maithripala Sirisena and Prime Minister Ranil Wickremesinghe said that they would conduct the next election before September according to a new electoral system. However, considering the time factor, we believe that it is impractical," Herath said.

Commenting on the 20th Amendment, he said that the JVP had always supported the electoral system which was best for the public. "However, we believe that the number of MPs in Parliament should not exceed the present number," Herath stated.

Meanwhile, reacting to allegations against the party made by former JVP Leader Somawansa Amarasinghe, Herath said that anybody could compare Somawansa's past and present comments about the JVP and understand what he really wanted to do.

"However, we will try to convince him to come back," Herath stated.