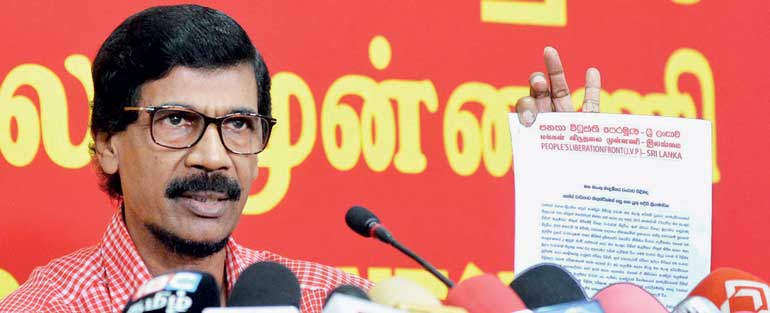 JVP yesterday demanded Government to take immediate legal action against officials incriminated in the COPE report on Central Bank (CB) bond issue, accusing UNP of attempting to cover up former CB Governor Arjuna Mahendran's involvement.

Party General secretary Tilvin Silva claimed that the Government leadership is trying to distract the people from the matter without taking action against the wrong doers.

"Ministers like Ajith P. Perera and Dilan Perera publicly say that action needs to be taken. Who is in the Government then? They are engaged in tactics to divert the attention of the people. So they don't have to take real action," he claimed, speaking at a media briefing held at JVP head office in Battaramulla.

Outlining a number of proposals from the party on how to address the situation, Silva said that Former Central Bank Governor Arjuna Mahendran should be removed from any post in Government.

The party also demanded the Government to take immediate legal action against all individuals responsible for the scam and to recover the money lost in the scam from those found guilty.

Warning that money earned by Perpetual Treasuries through the bond transaction may be transferred out the country the JVP recommends that government should take necessary legal action to prevent the company or its subsidiary entities from carrying out overseas money transfers while also cancelling the primary dealer license issued.

The JVP also wants the Government to suspend all Central Bank officers who were involved in the deal for as they warn they may interfere with the investigations.

Further the Government should also initiate investigations on the issues relating to bond issuance highlighted in the current COPE report and the report which was to be presented on August 2015, Silva claimed.

However the JVP stopped short of holding Prime Minister solely accountable for the whole Fraud. Silva claimed that the COPE does not have the legal mandate to investigate the Prime Minister, as the investigation was limited to the Central Bank. He also said that the JVP does not call for the resignation of the Prime Minister as taking such action is not part of Sri Lankan political culture.