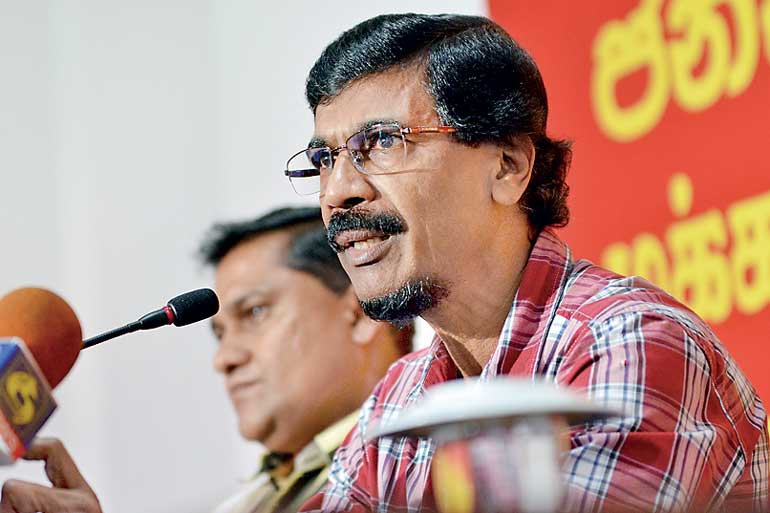 JVP General Secretary Tilvin Silva addressing the media brief yesterday at its Pelawatte Head Office – Pic by Shehan Gunasekara
By Chamodi Gunawardana

The Janatha Vimukthi Peramuna (JVP) yesterday alleged that President Maithripala Sirisena was copying former President Mahinda Rajapaksa's wrong political agenda by giving ministerial posts to Opposition MPs.

Addressing a press briefing yesterday, JVP General Secretary Tilvin Silva claimed that President Sirisena had bribed those MPs by giving them ministerial posts.

"President Sirisena appointed another four MPs as Deputy Ministers last Wednesday and we believe that he is trying to increase the number of followers via these appointments. Former President Rajapaksa also followed this false method to gather more supporters during his regime," Silva said.

He also pointed out that if the Government continued these wrong methods further for its survival, people would mete out the same punishment that they gave to the Rajapaksa Government.

"People voted for Sirisena to defeat the wrong political and economic methods that Rajapaksa used to control the country. People trusted President Sirisena and his 100-day plan. However, that trust is fading day by day," he charged.

Silva further said that the Government was in a hurry to appoint new ministers and deputies, but it had paid no attention to introducing the Parliamentarian's Code of Ethics which prepared by the JVP.

"President Sirisena has mentioned in his 100-day plan that he would introduce a new ethics list for Parliamentarians. However, it is still pending. We urge the Government to pass this important decision in Parliament as soon as possible," he mentioned.

Stating that the Government's conduct was questionable, Silva added: "President Sirisena has mentioned several times that Parliament will be dissolved soon and the election will be conducted in September. However, we do not see any preparations towards this end from the Government."

Meanwhile, JVP Propaganda Secretary Vijitha Herath said that the Government had a secret agenda with regard to the new electoral system.

"We gave our proposals to draft the new electoral system and we participated in all discussions. However, on Monday Cabinet passed another electoral system which was different from what we discussed," he claimed.

He also said that the Government did not inform the JVP about the reforms that were passed and that the party still had no idea about that.

"The Sri Lanka Freedom Party (SLFP) and United National Party (UNP) are commenting about this electoral system that has been passed, but we don't have any idea about that. However, we believe that the Government should inform us about these reforms without following secret agendas," Herath said.