By Chamodi Gunawardana

Several member parties of the Joint Opposition yesterday, alleged the United National Party (UNP) led Government is attempting to devolve the supreme power held by the execrative to local Governments via the new Constitution.

Holding a combined media briefing yesterday, the National Freedom Front (NFF), the Pivithuru Hela Urumaya (PHU) and Mahajana Eksath Peramuna (MEP) claimed that the draft report submitted to the Constitution's Steeling Committee by the subcommittee of Central Periphery Relations proposed to offer the supreme decision making power of the central Government to each local Government.

NFF Leader Wimal Weerawansa accused the committee of being dominated by professionals who favour federalism.

They have suggested the supreme powers should be allocated to each local body through the new constitution. If it was implemented, the central Government will lose its power to involve in local Government administration and people who back separatism will take advantage," he said.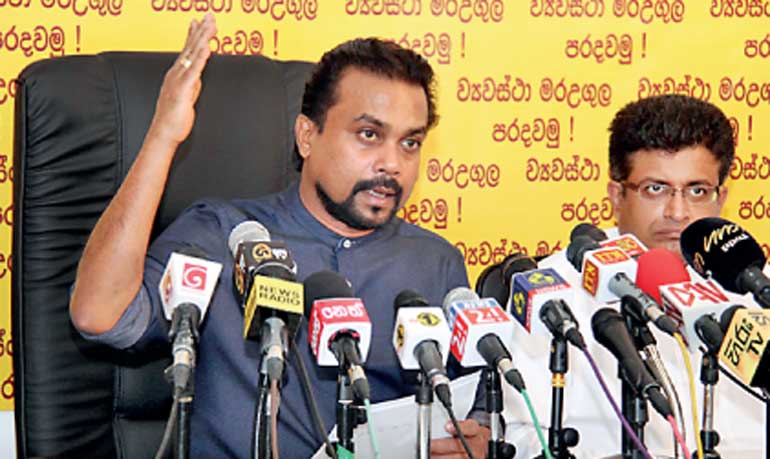 NFF Leader Wimal Weerawansa


Outlining the draft of proposals, Weerawansa also alleged that the subcommittee has recommended for policy making power to be allocated to local bodies by removing it from the central Government.

"If the policy making power goes to each local body, even the President Maithripala Sirisena won't be involved in the system. It will leave room for abuse of power by each chief minister," he claimed.

Weerawansa further said the subcommittee had also proposed to abolish the list of parallel powers, which would support the creation of "separate states" inside the country.

"According to the suggestions of the subcommittee, the Governor of the Province will be appointed by the Chief Minister, which creates room for him to appoint someone who is partial to him," he said, explaining that such a move may lead to separatism, particularly in the Northern Province.

Furthermore, the subcommittee had been recommended to establish a special constitutional court which is more powerful than the Supreme Court, Weerawansa said.

He claimed that such a constructional court could even take legal action against the President if he tries to dissolve any local Government on his own.

"That court will definitely be run by NGOs who are trying to meddle with the country's judicial system," he charged.

PHU Leader Udaya Gammanpila highlighted that the committee was lead by attorney-at-law MP Jayampathi Wickremeratna who has always been favourable towards a federal solution.

Threatening to take to streets to protest against any move by the Government to adopt the proposals, Gammanpila said the Joint Opposition will oppose any move to devolve Police powers to local Governments.