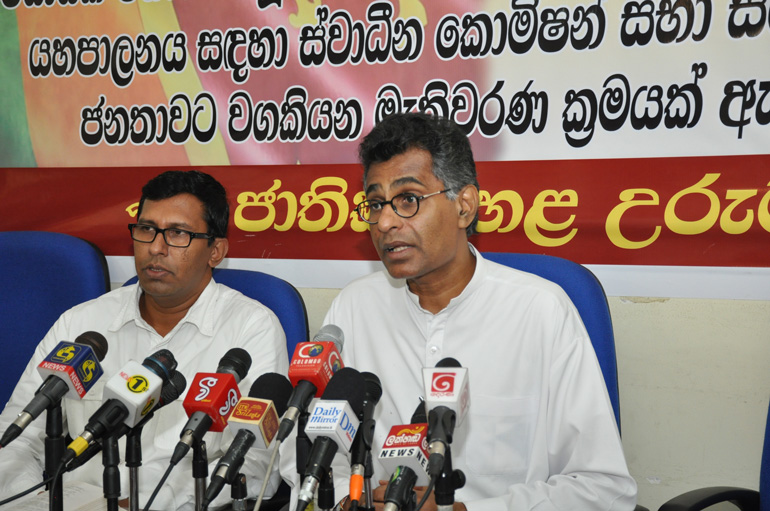 JHU General Secretary and Minister of Power and Energy Patali Champika Ranawaka addressing the press conference last morning at the JHU head office in Battaramulla. JHU Media Spokesperson Nishantha Sri Warnasinghe is also present – Pic by Lasantha Kumara
By Waruni Paranagamage

In an effort to get the two main parties to back the stalled 20th Amendment, the Jathika Hela Urumaya (JHU) yesterday urged both to focus on passing electoral reforms before dissolving Parliament.

JHU General Secretary, Power and Energy Minister Patali Champika Ranawaka charged the Government was still postponing gazetting the draft bill of the 20th Amendment in Parliament although the 19th Amendment was approved within three hours.

The Minister said the JHU was committed to national interest and President Maithripala Sirisena's election manifesto, although the new reforms could disadvantage them as a party.


"The new electoral system ensures the representation of all minority parties in Parliament by increasing the number of representatives via the National List, so we need to end the current abnormal electoral system and fulfill promises to the people," the Minister added.


The Minister said arguments against electoral reforms were mostly based on false information spread by interested parties who were trying to sabotage the implementation of the 20th Amendment by claiming it disadvantaged minorities. All parties, especially the United National Party (UNP), which worked together for the victory of President Maithripala Sirisena by following his manifesto should back the effort of implementing 20th Amendment, he asserted.