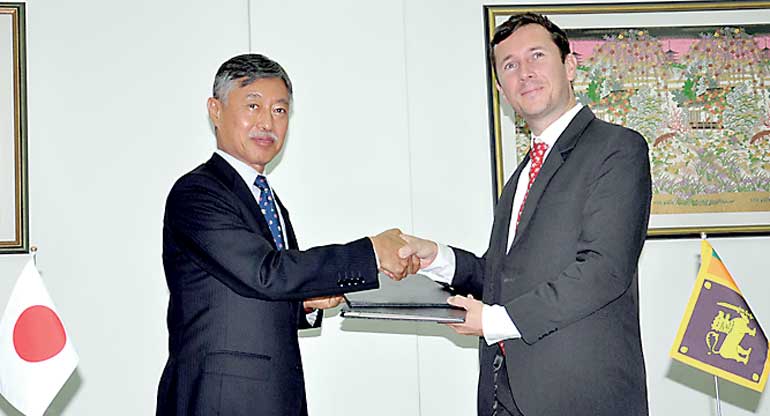 The Ambassador of Japan Kenichi Suganuma and the HALO Trust Program Manager Damian Francis O'brien exchanging the contract– Pic by Sameera Wijesinghe
By Chamodi Gunawardana

The Japanese Government has decided to fund a project of humanitarian mine clearance in Northern Sri Lanka, implemented by the HALO Trust by providing a total sum of $ 801,311.

The Embassy of Japan said the aid has been granted under the Japanese Grant Assistance for Grassroots Human Security Project (GGP).

The contract of the grant was signed yesterday between the Ambassador of Japan Kenichi Suganuma and the HALO Trust Program Manager Damian Francis O'brien at the Embassy of Japan.

Japanese Ambassador Suganuma said that humanitarian mine clearance has played a vital part in the resettlement of people and reconstruction of Sri Lanka. He mentioned Japan was committed to cooperating with Sri Lanka in conducting the demining project. The Ambassador appreciated the HALO Trust and said the Trust has so far cleared 11 kilometers of landmines in Northern areas.

"We have conducted discussions on rehabilitation and resettlement with Sri Lanka's Prime Minister Ranil Wickremesinghe during his visit to Japan. We stressed the importance of landmines clearance and pledged to extend our partnership to Sri Lanka," he expressed.

HALO Trust Program Manager O'brien noted that the organisation expects to clear its 200,000th landmine in Sri Lanka by early next year. He went on to say that the Sri Lankan Government's target to be free from mine-impact by 2020 is realistic. He said Japan has already played a major role in making the target a reality.

Japan has been a major donor in supporting mine clearance in Sri Lanka to accelerate the return and resettlement of Internal Displaced Persons (IDPs). Since 2003, the Japanese Government has provided a sum of $ 27.7 million for demining activities in North and East provinces under its grant assistance scheme.
---
Japan supports US resolution
The Ambassador of Japan Kenichi Suganuma yesterday said that Japan will support the Sri Lankan Government in implementing a resolution co-sponsored by the US and Sri Lanka, which was passed at the United Nations Human Rights Council (UNHRC) 30th session in Geneva.

Ambassador Suganuma said the manner of support will depend on the mechanism which the Sri Lankan Government employs. He said Japan will provide assistance either for domestic or international mechanism for war crimes investigations.

"The Japanese budget into Sri Lanka is limited, but if the Government requests funds for implementation of a new mechanism, we would be there. We expect to hold discussions with Government regarding this," he stated.