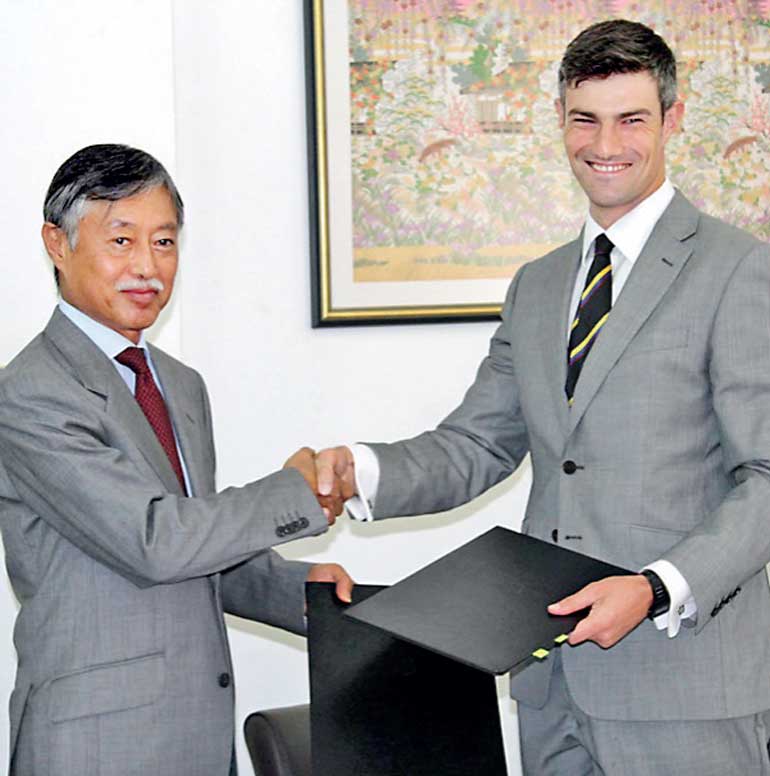 By Shanika Sriyananda

Extending its support for humanitarian mine clearance in the Sri Lanka's North, the Japanese government has provided a grant of Rs. 86.3 million to continue the de-mining projects in the North.

Under the Grant Assistance for Grassroots Humanitarian Security Project, the Japanese Government has given funds to the HALO Trust, which is the major international de-mining agency in the North.

The grant contract was signed yesterday between Ambassador of Japan Kenichi Suganuma and Operations Manager of the HALO Trust Robert Syfret at the Japanese Embassy in Colombo.

Japan has been a major donor that supports mine clearance in Sri Lanka to accelerate resettling war displaced people and also to commence their livelihood activities including agriculture.

Since 2003, the Japanese government has granted nearly USD 28.7 million for demining activities in the North and the East under its Grant Assistance schemes.

Speaking to the media, the Japanese Ambassador Suganuma said that the Japanese government has extended its support to the HALO Trust by another year to continue humanitarian demining.

"The Japanese has given top priority to carrying out demining the war affected areas in Sri Lanka. Japan has signed the Ottawa Convention and ratified it in March. Therefore, providing assistance in humanitarian demining is one of the top priorities in our foreign diplomacy," he said.

Expressing his gratitude to the HALO Trust, Suganuma said it had carried out the demining activities excellently and had achieved its targets in de-mining.

"Demining requires extreme caution and any mistake will be a threat to the deminers. HALO Trust has handled the risky demining activities well,"

The Ambassador said there were more than 21 hectares to be cleared and the Japanese government would work together with Sri Lanka to make a mine free Sri Lanka.

HALO Trust Operations Manager Syfret said that the Japanese Government was a long-standing supporter of demining activities in the Sri Lanka's North and its consistent support had been crucial for them to continue with clearing mines in the country's biggest minefields.

"We wouldn't have achieved anything without the financial assistance from the Japanese government. It helps to achieve our objective, which is a mine free country by 2020," he said.

Under financial support given by the Japanese government, the HALO Trust has cleared over 26 hectres and had removed over 8,183 mines and other explosive items, this year.

"This has helped nearly 6,645 villagers to return to their own lands and to start agriculture and other livelihood activities," Syfret said.

According to Syfret, since 2003 the HALO Trust has cleared 12.5 million sqkm and nearly 10 millionsqkm are remaining to be cleared.