By Ashwin Hemmathagama

Our Lobby Correspondent

Japan has come forward in extending a helping hand in the areas of investment promotion, trade, national development, national reconciliation and peace building, political consultation and maritime cooperation, human resources development, and a people-to-people exchange program as a result of a recent visit by Prime Minister Ranil Wickremesinghe, according to a statement the PM made at Parliament yesterday.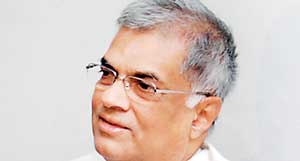 "The development of our airport and dry docks, the expansion of Kandy town, the designing and development of towns like Galle and Trincomalee, as well as obtaining coast guard vessels, and marine technology are included in Japan's assistance to us. We trust Japan should have a permanent seat in UN Security Council, and Sri Lanka will help them reach this goal. Japan will also help us develop Sri Lanka's war torn Northern and the Eastern provinces – a donor summit will be held in this regard. We inked the agreement enabling the Japanese to fund the second phase of the Katunayake International Airport. The Japanese donation for this project will be US$45 billion," said Prime Minister Wickremesinghe, tabling the Joint Declaration on Comprehensive Partnership between Japan and Sri Lanka.

With plans to use Japan as a "launch pad" to bring Sri Lanka out of its isolation from the international arena, Prime Minister Wickremesinghe visited Japan on 4 October. According to Wickremasinghe, the current Government has changed foreign policy accordingly to suite a global tune, which has worked remarkably on all fronts. "President Sirisena, Foreign Minister Managala Samaraweera and I have worked hard to re-align and stabilise foreign policy after the election. We have lost many allies, and strained our relationship with Japan during the last regime. The Government of Japan commended our efforts and the progress made on many fronts in having won the hearts of our Asian neighbours, including India and China," PM Wickremesinghe told Parliament, reminding the House that former President Mahinda Rajapaksa has extended a visit to the Japanese Judge Moto Naguchi to Sri Lanka this month.

During his visit to Japan, the PM addressed the Parliament of Japan among other meetings held with Japanese political, commerce and business leaders.

"Japan was isolated after World War II. Former President J. R. Jayawardene addressing a San Francisco Summit in 1952 wanted Japan to be allowed to rise again as an independent nation, one that has learnt lessons from its past mistakes on par with Buddhist philosophy. Japanese Prime Minister Shenso Abey fondly remembers Sri Lanka for this speech, which was a turning point in Japan's post World War II history," added PM Wickremesinghe, who aims to obtain Japanese support in developing Sri Lanka's science and technology.