Major General Jagath C. Dias has been appointed as the new Chief of Staff of the Sri Lanka Army, Army Headquarters announced.

He is the 46th Chief of Staff of the Army. Major General Dias is currently serving as the Commander, Security Force – Mullaitivu.

He was enlisted to the Army on 11 August 1980 and commissioned to the first Vijayabahu Infantry Regiment as a Second Lieutenant on 27 February 1982. Afterwards he received an Inter-Regimental transfer to the Gajaba Regiment (GR).


He was subsequently promoted to the rank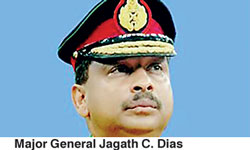 s of Captain (1986), Major (1994), Lieutenant Colonel (1995), Colonel (2000), Brigadier (2005) and Major General on 18 February 2008.


Major General Jagath Dias, who counts over 35 years of military service in the Army, has served as the Adjutant General (2012-2014), Deputy Chief of Mission to the Sri Lanka Embassy in Berlin (2009-2011), General Officer Commanding 57 Division (2007-2009), General Officer Commanding 56 Division (2006-2007), Commander 233 Brigade (2005-2006), Commandant, Infantry Training Centre, Officiating Commander for 534 Brigade (2003-2004), Officiating Inspector Infantry, Army Headquarters (2001-2003), Officiating Commander, 516 Brigade (2000-2001), Coordinating Officer Ariyalai, Officiating Commander 551 Brigade, Commander 553 Brigade, Officiating Colonel GS, Directorate of Operations, Army Headquarters, Officiating Commandant Gajaba Regiment Regimental Headquarters, Commanding Officer, 10 Gajaba Regiment and many other appointments.


Major General Jagath Dias, who has wide-ranging experience in various command, staff and instructional appointments, commanded the 57 Division during the height of the war.