The Government has received a vast amount of information on fraud, corruption and misuse of public funds and resources that took place during the previous administration and complaints are still being received, Prime Minister Ranis Wickremesinghe said.

Responding to a question raised by the JVP parliamentarian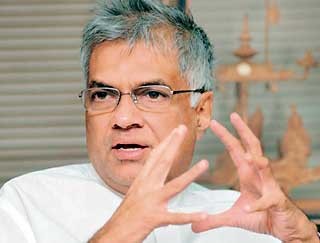 Anura Kumara Dissanayake in parliament, the Prime Minister said the investigations into these complaints are being conducted properly and systematically.

Addressing allegation that the government is too slow in investigating the previous regime's frauds and corruption, the Prime Minister said the investigations have to be done cautiously and attentively with patience.

He said government institutions including the Bribery Commission were so corrupt during the previous regime and the government had to function carefully with caution and rectify a number of shortcomings. New officers had to be trained and new institutions had to be established, to probe the complaints, he added.

He said the Anti-Corruption Committee Secretariat has received a large number of complaints on corruption and fraud, criminal breach of trust, abuse of property, misuse of state resources and money, violations of the law in several fields.

Out of the complaints received, 226 are being investigated by the Financial Crime Investigations Department (FCID) of police. Another 34 are being investigated by the CID and 63 complaints have been directed to the Commission to Investigate Allegations of Bribery or Corruption while the Police Legal Division has been given one complaint.

Investigations have been completed on 35 complaints and they have been sent to the Attorney General for further action.

The Premier pointed out that the government by a gazette notification on 10 March 2015 established the Presidential Commission of Inquiry to Inquire and Investigate into Serious Acts of Fraud and Corruption (PRECIFAC).

The PRECIFAC has been delegated the responsibility to investigate fraud and corruption that took place during the period from 10 January 2010 to 10th January 2015.

The PM said that all these investigations are being conducted properly and systematically.

"We (the government) do not influence these investigations, we won't allow anyone to say that we are hunting, taking revenge," he said.

He said the final decision on the probes should be taken by the police and the Attorney General's Department.