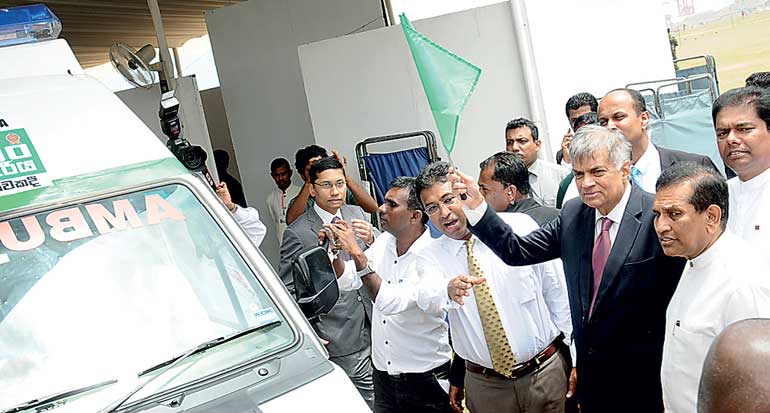 Prime Minister Ranil Wickremesinghe flag off an ambulance – Pic by Gitika Talukdar
By Shannine Daniel

For the first time in Sri Lanka, an Emergency Response Ambulance Service was launched yesterday, through grant assistance of the Government of India of $ 7.6 million.

The Emergency Ambulance Service project includes an emergency response centre, the deployment of 108 ambulances in the Southern and Western Provinces and the recruitment and training of nearly 600 Sri Lankan personnel as EMTs and Ambulance Pilots. In addition, four to six staff members are to be deployed from India to provide management and technical expertise guidance.

Prime Minister Ranil Wickremesinghe attending the launch of the service stated that the establishment of free pre-hospital care ambulance service was a landmark in the history of medicine in Sri Lanka and one of the key objectives in the accident and emergency care policy of Sri Lanka.

He also stated that the main purpose behind this service was to distribute accessible healthcare to all parts of the country, specifically to the rural areas. "India has presented us with an emergency ambulance service of high standard. These ambulances have been fully equipped with the necessary medical facilities needed to keep a patient alive until he or she is taken to hospital," Wickremesinghe said at the inauguration.

"This Emergency Ambulance Service will be initially launched in the Western and Southern Provinces because the largest development schemes will take place in these areas. Through this service we will be able to provide emergency medical relief for population of far-off rural areas such as Agalawatte and Hiniduma. These people will be able to access full medical treatment from hospitals as well," Wickremesinghe noted.

"Due to this service many people's lives will be protected. The relief that will be given to patients from far off rural areas that need to be taken to hospitals in the city is immeasurable," he added. "This project is also a great opportunity to strengthen and develop Indo-Sri Lanka ties."

Furthermore, the Prime Minister also revealed that his Indian counterpart was interested in introducing a scheme in Sri Lanka in future, which involved the use of motorbikes as ambulances in order to navigate through traffic in congested urban areas faster and save time when providing the necessary medical relief and assistance for patients.

Indian Prime Minister Narendra Modi releasing a message to mark the occasion noted: "This Ambulance Service will add to your capacities for delivering emergency healthcare. The goals of this project are ambitious; it will reach out to over eight million residents of Southern and Western Sri Lanka."

"I am told it will also be a source of substantial job creation in local communities. The project also showcases the success of Public Private Partnership between the Government of Sri Lanka and its nominated implementing partner," he added.

The Government of Sri Lanka has selected GVK EMRI as the implementing agency. A not-for-profit company, GVK EMRI Lanka Ltd., has been created for rolling out the services in the Western and Southern Provinces of Sri Lanka. All assets, including ambulances, will belong to Ministry Health, Nutrition and Indigenous Medicine of Sri Lanka.

The emergency ambulance services will be provided free of cost to the beneficiaries and people in need of medical assistance can dial 1990 to access the service through any mobile network across the country with no cost incurred to the caller as well.

"From tomorrow onwards this Emergency Ambulance Service will be dispatched in the Galle, Matara and Hambantota Districts. We hope to begin this service in the Colombo, Gampaha and Kalutara Districts from next week onwards," said Foreign Affairs Deputy Minister Dr. Harsha De Silva.

India's development portfolio in Sri Lanka amounts to approximately $2.6 billion, out of which $436 million is grants funds.