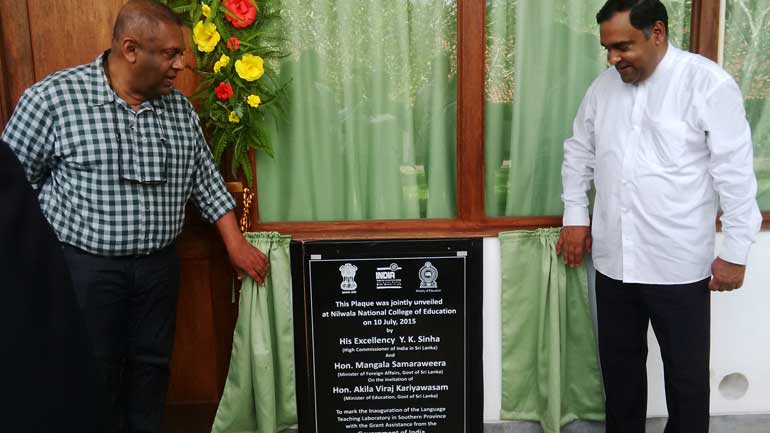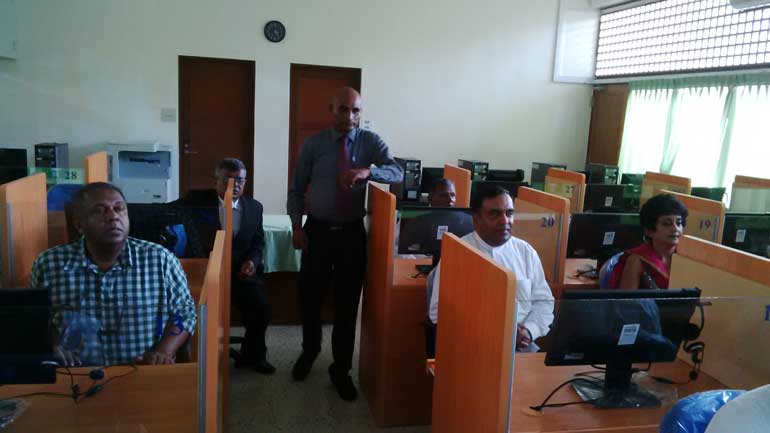 The High Commissioner of India to Sri Lanka, Y. K. Sinha, and Minister of Foreign Affairs, Mangala Samaraweera, jointly inaugurated a Language Lab in Akuressa on 10 July at a function held at the Nilwala National College of Education.

Consul General of India to Hambantota, Raj Kumar, Director, Tamil Schools Development of the Ministry of Education of Sri Lanka, Muralidharan, and other senior officials were also present at the occasion.

Speaking at the event, Minister Samaraweera stated that English was the medium which opened a window of opportunities for Sri Lankan youth, both in Sri Lanka and abroad. He thanked the Government of India for the project, which would act as a platform for skill development for the youth of Sri Lanka. The High Commissioner indicated that the Indian Government had been assisting Sri Lanka in various sectors through development assistance programs. He expressed his happiness that the Indian Government had been a partner in Sri Lanka's trilingual initiative.

This Language Lab is one of the nine labs that the Indian Government has set up in each of Sri Lanka's nine provinces.

Four Language Labs in Gampaha (Western Province), Kandy (Central Province), Bingiriya (North Western Province) and Adalaichenai (Eastern Province) have already been inaugurated. Other locations where Language Labs have been set up are Jaffna (Northern Province), Polonnaruwa (North Central Province), Ratnapura (Sabaragamuwa Province) and Badulla (Uva Province).

The project has been implemented as part of an MoU signed between India and Sri Lanka in 2011 for "setting up of a Three-Tier English Language Training System in Sri Lanka." The total cost of the project is Rs. 84 million, implemented under full grant assistance from the Indian Government.

As part of the project, India has provided each centre with 31 computer units and other related equipment, software and the latest sophisticated teaching aids while also training five master trainers at each centre.

The project aims to improve English Language training infrastructure in Sri Lanka, impart training to English language teachers from schools, colleges and universities in Sri Lanka, upgrade their skills and raise the general level of English proficiency within various sections of society.