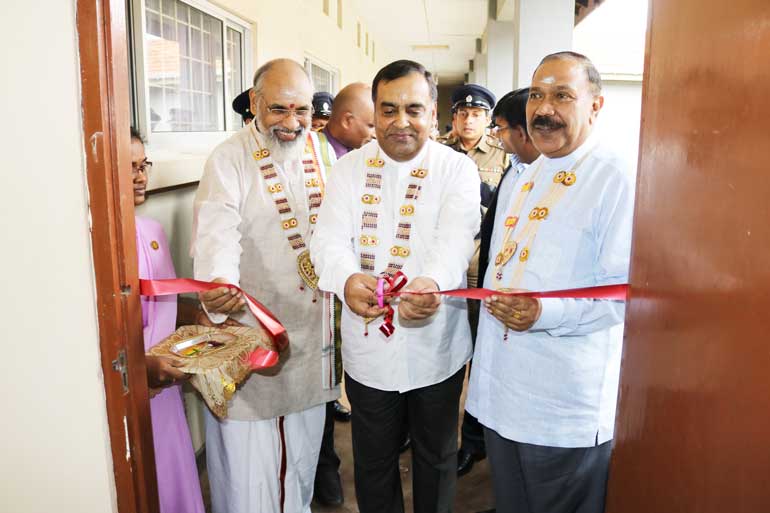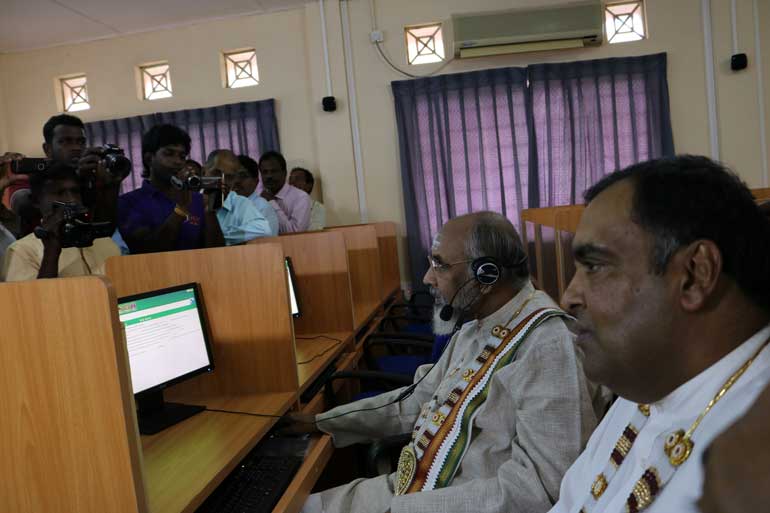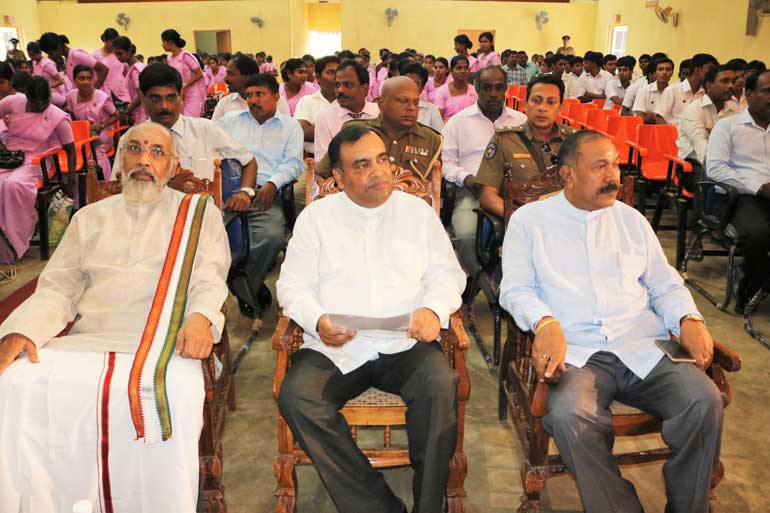 Top officials were present yesterday at the inauguration of the Indian Government funded Language Lab in Jaffna, the Indian High Commission said in a statement.

Y. K. Sinha,High Commissioner of India, V.S. Radhakrishnan, State Minister of Education, and Justice C.V. Wigneswaran, Chief Minister of Northern Province of Sri Lanka, jointly inaugurated an English Language Lab in Kopay, Jaffna on Friday at a function held at Jaffna National College of Education.

A. Natarajan, Consul General of India-Jaffna, Muralidharan, Director, Tamil Schools Development of Ministry of Education of Sri Lanka, and other senior officials were also present during the occasion.

Speaking on the occasion, State Minister recalled the relationship that India and Sri Lanka enjoyed from time immemorial. He thanked the Government of India for its continuous assistance to Sri Lanka and requested more support in the field of education and skills development.

In his address, while welcoming Government of India's grant assistance, the Chief Minister stated that the language lab would improve the English language skills of the students of the North, who were deprived of opportunities to learn English earlier due to prolonged internal conflict.

High Commissioner briefly outlined the projects that are currently under implementation by the Government of India including the Indian Housing Project, renovation of Duraiappah stadium in Jaffna, construction of cultural centre in Jaffna, establishment of Faculties of Agriculture and Engineering at the Kilinochchi campus, University of Jaffna, and procurement of medical equipment for the 200 bed ward complex in Vavuniya. On Indian Housing Project to construct 50000 houses, he updated that a total of 40,700 houses has been completed till date.

This Language Lab is one of the nine labs that the Government of India has set up in each of the nine provinces of Sri Lanka. Six language labs in Gampaha (Western Province), Kandy (Central Province), Bingiriya (North Western Province) and Adalaichenai (Eastern Province), Matara (Southern Province) and Badulla (Uva Province)have already been inaugurated. Other locations where Language Labs have been set up are Polonnaruwa (North Central Province) and Ratnapura (Sabaragamuwa Province).

The project has been implemented as part of an MoU signed between India and Sri Lanka in 2011 for "Setting up of a Three-Tier English Language Training System in Sri Lanka".

The total cost of the project is SLR 84 million, implemented under full grant assistance of the Government of India. As part of the project, Government of India has provided 31 computer units and other related equipment, software and latest sophisticated teaching aids to each Centre, and has also trained five master trainers for each Centre.

The objective of the project is to help enhance the English Language training infrastructure in Sri Lanka; impart training to English language teachers from schools, colleges and universities in Sri Lanka; upgrade their skills; and raise the general level of proficiency in the English language of various sections of society.