Secretary General of the International Federation of Red Cross and Red Crescent Societies (IFRC) Elhadj As Sy will arrive in Sri Lanka on 1 March for a three-day official visit during which he will visit the Sri Lanka Red Cross Society's Post Conflict Recovery Program in the north of the country.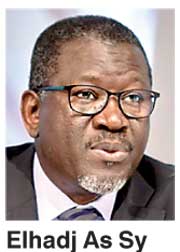 The Red Cross Post Conflict Recovery Program, which has been supported by the IFRC and donors from around the world, including the Government of India, has provided more than 21,000 families with financial and technical help to build new homes and reestablish their lives in areas of the north that were affected by Sri Lanka's long-running conflict.

Sy will travel to Jaffna and Kilinochchi and meet with families and Red Cross volunteers involved in the program.

He will also meet with President Maithripala Sirisena and other high-level dignitaries during his visit.

Sy's visit comes following an invitation from the President of the Sri Lanka Red Cross Society, Jagath Abeysinghe.

Sy joined the IFRC in August 2014. He has extensive experience in leadership roles in the humanitarian sector, having previously served at a senior level with UNICEF, UNAIDS, the Global Fund to Fight AIDS, Tuberculosis and Malaria, and other agencies for more than 25 years.