President Maithripala Sirisena says he will fulfill his responsibility to make the lives of the residents of Colombo beautiful, similar to the beauty of the city, by boosting their economy.

"Though Colombo has been built as a beautiful city, solutions haven't been provided to the problems of the poor people who are living in the slums. Hence, it's the government's objective to boost all people economically, by minimising the gap between the people living luxurious lives in the palaces in Colombo and those who are sighing, living in the slums adjacent to those palaces," he said.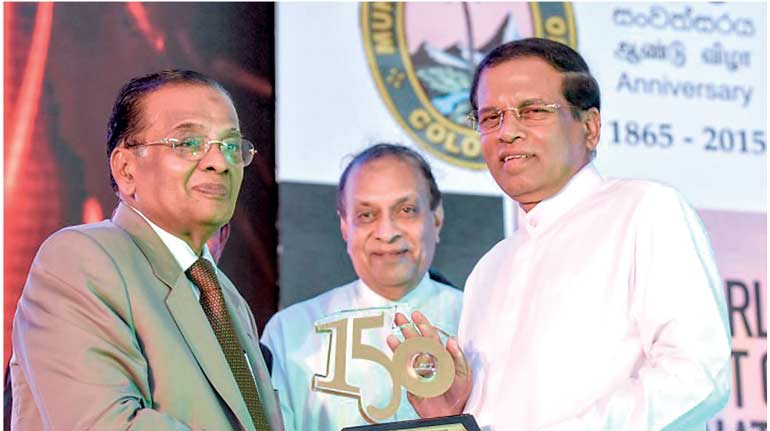 The President was speaking at the ceremony to felicitate the workers of the Colombo Municipal Council, organised to mark its 150th anniversary yesterday.

"We should make an end to the gap between the haves and have nots", the President emphasised.

"The new government has established a separate Ministry for megapolis development. The plan for megapolis development, which is aimed at beautifying not only the city, but also the lives of its people, will be implemented from next 8 January ," the President stated.

The souvenir book 'Journey of the Colombo Municipal Council' was presented to President Sirisena at this occasion. The President also launched the modernised website of the Colombo Municipal Council.

President Sirisena symbolically handed over presents to 100 workers of the Colombo Municipal Council, who have completed over 25 years of service there.

Colombo Mayor A. J. M. Muzammil presented a special souvenir to the President at this occasion.

Speaker Karu Jayasuriya unveiled a portrait of President Sirisena created in the premises of the Municipal Council.

Souvenirs were presented to 53 Urban Councilors at this ceremony.

Ministers Wijeyadasa Rajapakshe and A. H. M. Fowzie, Chief Minister of Western Province Isura Dewapriya and MP Hirunika Premachandra also participated in this ceremony.