Reuters: Sri Lankan fishermen, environmentalists and Catholic clergy took to streets of Colombo on Monday (April 4) to protest against the government's decision to give the go ahead to a $ 1.4 billion Chinese-backed real estate project which would include building apartments, shopping malls, a water sports area, a golf course, hotels and marinas next to Colombo's main port.

The project was initiated by the Chinese President Xi Jinping in 2014 and was emblematic of China's strategy of developing a maritime Silk Road from Asia to Europe.

President Maithripala Sirisena's new government initially suspended the project in March last year citing various irregularities including a lack of proper permits and approval but now says the irregularities were being addressed in a review of the project.

The new government is trying to speed up procedures for foreign direct investment and liberalising the foreign exchange market to attract more dollar inflows to face a balance-of-payments crisis. It is also seeking an IMF loan.

But environmentalists argue that the mega-project will cause major sea erosion affecting the island nations' famous beaches.

Local fishermen fear that the construction will cause change of sea currents and destroy their villages.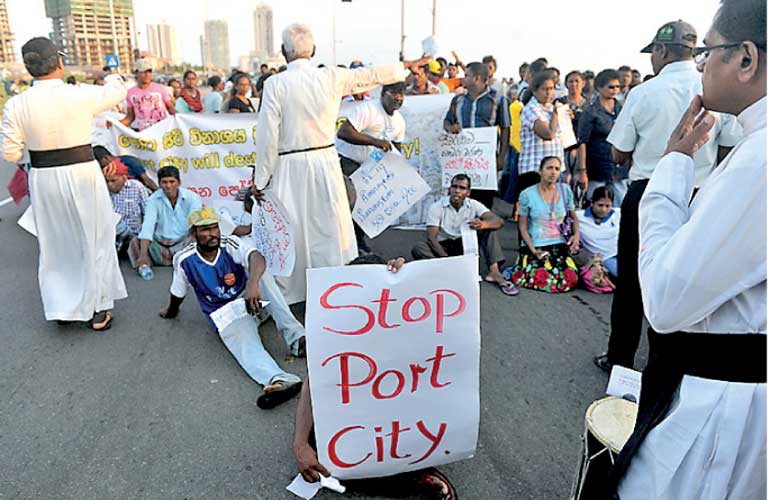 Sri Lankan activists demonstrate in Colombo on 4 April, against a Chinese project to reclaim part of the sea for real estate development. Sri Lanka last month granted permission for China to build the vast "port city" despite concerns that the ambitious project could be an environmental disaster. The latest protest came two days before Prime Minister Ranil Wickremesinghe was due to travel to China on an official visit - AFP


Demonstrators marched through the capital with placards calling for an immediate cancellation of the project and criticised the government for going back on its election pledge to do away with the project.

"This project is for the mega-rich at the expense of the poor. This project is completely unfair and anti-democratic," said anti-project activist reverend Sarath Iddamalgoda.

The project also alarmed Sri Lanka's big neighbour, India, which is wary of China's growing influence in the Indian Ocean, especially after visits to Sri Lanka by two Chinese submarines in 2014.