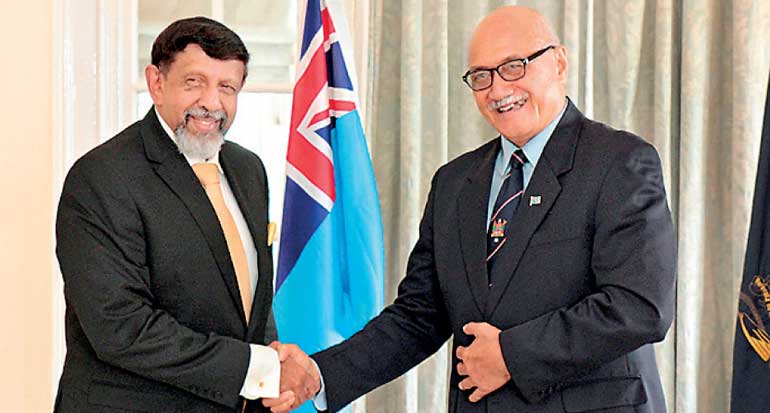 High Commissioner Somasundaram Skandakumar presented credentials to Major General (ret'd) Jioji Konousi Konrote, the President of the Republic of Fiji in Suva on 28 January.

During a one to one discussion following the credentials ceremony, High Commissioner Skandakumar briefed the President of the significant progress made in Sri Lanka, on reconciliation, reconstruction and economic development since President Maithripala Sirisena took office. He commended the progress made by Fiji since the promulgation of the new Constitution in 2013 and elections in 2014, particularly the introduction of free education.

The High Commissioner also noted that although trade between the two countries has not shown a regular pattern, there was potential for improving investment and economic relations. The High Commissioner made further note of the contribution to the Fijian economy by the Sri Lankan expatriate community who held high positions in Government and the private sector.

In the field of sports, the High Commissioner said that the Fijian rugby players had not only enhanced the game by participating in the domestic league in Sri Lanka but had also been good Ambassadors for their country.

President Konrote warmly welcomed the High Commissioner and praised the contribution made by the Sri Lankan judiciary, in particular during a difficult period in Fiji. The President said that introducing free education was an investment for Fiji's future generations, and said he hoped to see it bear fruit during his lifetime. While rugby was Fiji's main sport the President said that they would welcome assistance from Sri Lanka to improve their skills in cricket.

The High Commissioner was received at the State House by the Official Secretary to the President and the Acting Chief of Protocol. The credentials ceremony was preceded by a Guard of Honour, which has been newly introduced into the Credentials Ceremony. Sri Lanka's High Commissioner was the second Head of Mission (Cyprus being the first) to receive the Guard of Honour prior to presenting credentials.

Deputy High Commissioner Himalee Arunatilaka accompanied the High Commissioner to the presentation.