By Chamodi Gunawardana

The United People's Freedom Alliance (UPFA) yesterday announced that it was planning to remove Prime Minister Ranil Wickremesinghe from his post and appoint a Prime Minister from within its ranks.

Addressing a media briefing held yesterday, Mahajana Eksath Peramuna (MEP) Leader and UPFA Parliamentarian Dinesh Gunawardena said that the UPFA would dissolve Parliament after appointing its own Prime Minister.

"All party leaders within the UPFA gathered together last Thursday and discussed this proposal. Those discussions were successful and we decided to remove Wickremesinghe from the premiership. We are planning to urge President Maithripala Sirisena to remove Wickremesinghe immediately. Wickremesinghe is enjoying the benefits of the Premiership because of President Sirisena," Gunawardena said.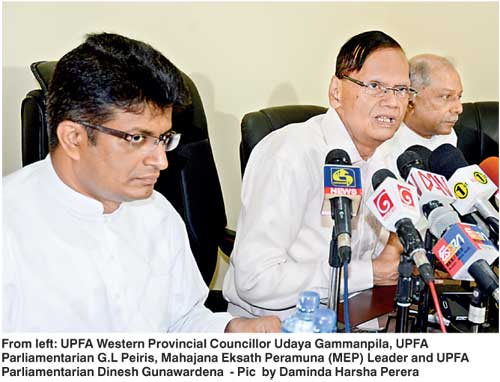 Gunawardena added that the UPFA would pass the no-confidence motion against Wickremesinghe as soon as possible.

"Many Parliamentarians have already signed the no-confidence motion and we are expecting to collect more signatures as well. Wickremesinghe has violated the Constitution and this Government is unable to fulfill the people's aspirations because of that," Gunawardena said.

However, when the journalists questioned who the UPFA Prime Ministerial candidate was, Gunawardena said that the name of the candidate could not be revealed until Wickremesinghe was removed from the Prime Minister's post.

UPFA Western Provincial Councillor Udaya Gammanpila, addressing the media briefing, said that if Wickremesinghe really wanted to be the Prime Minister again he should win the forthcoming general election.

"If Wickremesinghe won the election the UPFA would warmly welcome him as the Prime Minister. Right now he is acting as the Prime Minister by coming into power through President Sirisena's manifesto. Therefore it is not ethical for him to remain the PM any longer," Gammanpila said.
Presidential commission proposed on CB chief
The Opposition yesterday called on President Maithripala Sirisena to appoint an independent Presidential Commission to investigate the allegations against Central Bank Governor Arjuna Mahendran.

Opposition member Udaya Gamanpilla said that the allegations against the Governor are not only damaging to the image of the Government but also the President.

Gamanpilla said that if the President wanted to clear his name then he must appoint an independent Presidential Commission to conduct a transparent investigation into the allegations.

"However, the commission should not be one like the one which was appointed by the Prime Minister. It should be independent and have full powers," he said.