By Uditha Jayasinghe

The Government yesterday attempted to downplay burgeoning religious tensions in the country by insisting police were conducting investigations into 21 complaints of hate speech and 14 counts of criminal activity that included burning shops but acknowledged its law enforcement authorities failed to apprehend the General Secretary of the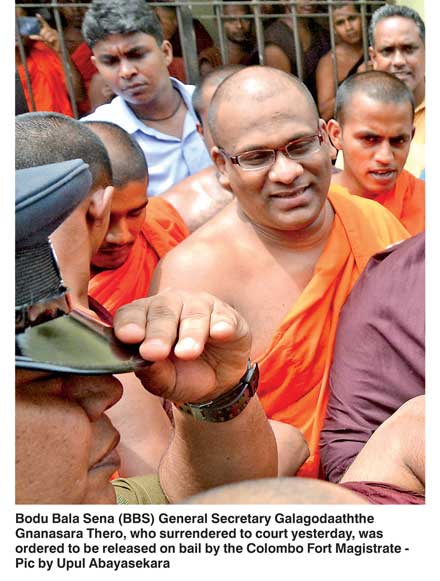 Bodu Bala Sena (BBS).

Police spokesman DIG Priyantha Jayakody, in the midst of a barrage of questions from the media at the weekly Cabinet briefing, dismissed claims that police did not work hard to arrest BBS General Secretary Galagodaaththe Gnanasara.

"You have to understand that apprehending a monk is different from a manhunt for a normal criminal. Certain things such as obtaining warrants to search temples are very sensitive to obtain. There is a cultural and religious aspect here as well," he said.

He also claimed it was not possible for the four police teams to arrest the BBS General Secretary when he was on his way to court as that would have been "infringing his rights." However, DIG Jayakody denied there was any pressure from powerful parties to prevent the arrest.

The arrest warrant issued for Bodu Bala Sena (BBS) General Secretary Gnanasara Thero, who surrendered to the Court last morning, was recalled by the Colombo Fort Magistrate. Subsequently, Magistrate Lanka Jayaratne released the Thero on previous bail conditions.

Two cases were filed against the Thero in the Magistrate's Court for allegedly defaming the Quran and assaulting the organisers of the Jathika Bala Sena media conference held in 2014. The next hearing of the cases was fixed for 2 August.

Among the major crimes being investigated by police is the torching of four shops in Maharagama and Nugegoda and three other shops in Panadura. A Buddhist monk, three people and a policeman have been arrested in the latter case, DIG Jayakody said.

"I say this with responsibility, anyone who is caught making hate speech or promoting religious disharmony will be dealt with according to the law. There will be no exceptions."

Cabinet Spokesman Dr. Rajitha Herath declined to respond to the statement issued by the Asgiriya Sanga Council, saying the Government would issue its own response over the next few days. However, when cross questioned over specific details of politicians allegedly disrespecting Buddhist monks, Dr. Senaratne pointed out that "if Buddhist monks behaved in a way that earned them respect there would be no need to make special dispensation regarding them."

"Our people are not racist. That is clear. During the last parliamentary elections none of these people even managed to win a single seat in Parliament. These issues are created by politicians and they are helped by a few media houses. That is the truth and we cannot let things like this run out of control," he said.