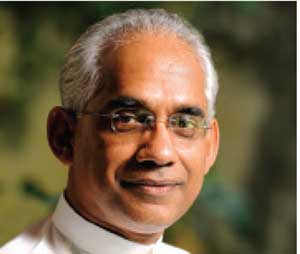 The Government is in the process of collecting data on the number of businesses that were affected by the Salawa Ammunition Depot blaze earlier this month, Deputy Minister of State Enterprises Eran Wickramaratne said yesterday.

Wickramaratne said he was part of a cabinet committee that was coordinating long-term relief in the aftermath of the Salawa destruction and the devastation caused by the recent floods.

"In the Colombo District alone 38,000 families have been affected by the floods. The first step was immediate relief, which was provided through the Disaster Management Ministry and civil society and ordinary people. We are grateful to the military and the police for their rescue and clean up operations during the disaster, that are still continuing," the Deputy Minister said.

He also explained that the Government's economic vision was different from that of its predecessor. Wickramaratne said that the former Government had prioritised the state as the main driver of the economy.

"During the Rajapaksa administration, 100 state enterprises were opened. The cumulative losses from these state enterprises is over Rs. 600 billion. That was their style of economic management," he said.

Wickramaratne said the Government's policy was different. "We believe everyone has a right to drive their ideas and their enterprises. The Government exists to assist and encourage that development. This Government believes increasing exports is key to growth," he added.

He said the Government was facing a two pronged challenge to balance the budget deficit and also keep its election promises of economic relief to the people.

Wickramaratne stressed that the focus must be on investment, which is currently 12% of GDP. "That needs to go up to 20% and more of GDP," he said.