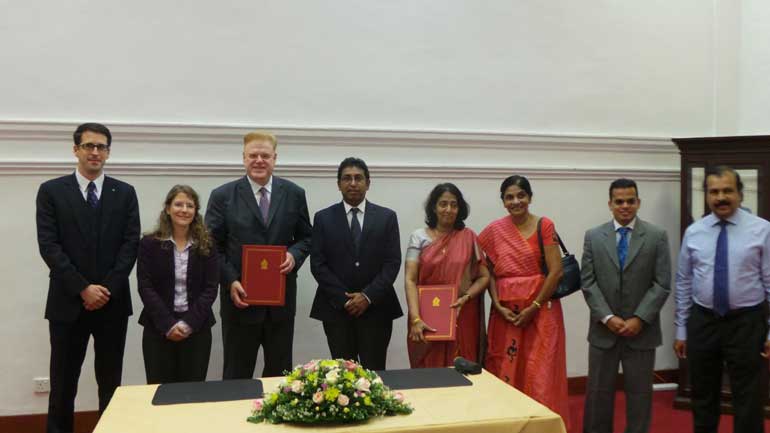 A German Non-Governmental Organisation (NGO) effectively expelled by the previous Government has returned to the country to resume its work, after the regime change, a Government Minister said.

Deputy Foreign Affairs Minister Dr. Harsha de Silva said a Memorandum of Understanding was signed with the Friedrich Naumann Foundation (FNF) with the "full blessings of the Government". The Head of International Affairs of FNF and Secretary Foreign Affairs signed the MOU yesterday at the Ministry of Foreign Affairs.

"Today we welcomed back to Sri Lanka the German Friedrich Naumann Foundation that the previous Government evicted on an absurd and ludicrous allegation," the Deputy Minister said in a Facebook post.

The Friedrich Naumann Foundation, an international non-profit organisation that promotes ideas of liberal democracy, respect for human rights, rule of law and economic freedom in more than 60 countries, has been working in Sri Lanka since the 1970s as a non-profit, non-governmental organization under a Memorandum of Co-operation with the Government of Sri Lanka.

The NGO had worked in Sri Lanka for over 30 years in promoting democracy, small business, social enterprise and freedom among others.

The Foundation was forced to suspend its projects in late 2013 following the persecution of its local staff and partners. The Criminal Investigation Department (CID) launched an investigation after the organisation held a workshop for the then opposition United National Party Parliamentarians. The Government of Mahinda Rajapaksa claimed that the workshop was a ploy to overthrow the Government.

With the successful visit of President Maithripala Sirisena to Germany recently the bilateral relations have become even stronger and the Germans became the first EU nation to have strongly registered their support for GSP+ with the commission and are helping Sri Lanka to make the application a success, Deputy Minister Dr. de Silva said.

"We are working on several investment opportunities with them and hopefully the VW (Volkswagen) investment too should also come through no sooner they sort out the emission issue that has delayed all their global expansion plans," the Deputy Minister said. "They will also complete the second German Tech in Kilinochchi soon," he added.