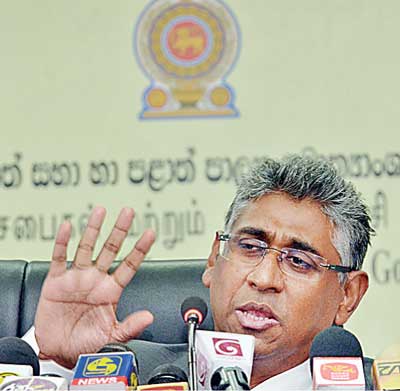 Municipal Councils will refuse collection of waste from November unless it segregated, Minister Faizer Musthapa announced yesterday.

The ministry is now holding discussions to amend the regulations governing local bodies to levy fines on individuals or institutions who fail to separate waste before collection by local authorities.

The move to refuse waste collection unless segregated comes as an initial step of the waste management plan developed by the National Solid Waste Management Support Centre (NSWMSC). However, instructions on garbage separation have been issued by local government bodies over the last three years, without much practical implementation.

From November all households and institutions will be required to separate garbage as biodegradable, plastic and glass.

"In future those who collect waste that has not been segregated will be fined as well as those who leave waste to be collected without segregating as required," NSWMSC Director Athula Illangasinghe told Daily FT. The ministry is now in the process of initiating new compost facilities available for local government authorities to process biodegradable waste. At present the country only has 142 composting units for 335 local authorities. Furthermore, many local government bodies face difficulties in transportation of collected waste to processing sites.

"These issues will be addressed through the national plan over the next three years," Illangasinghe noted.