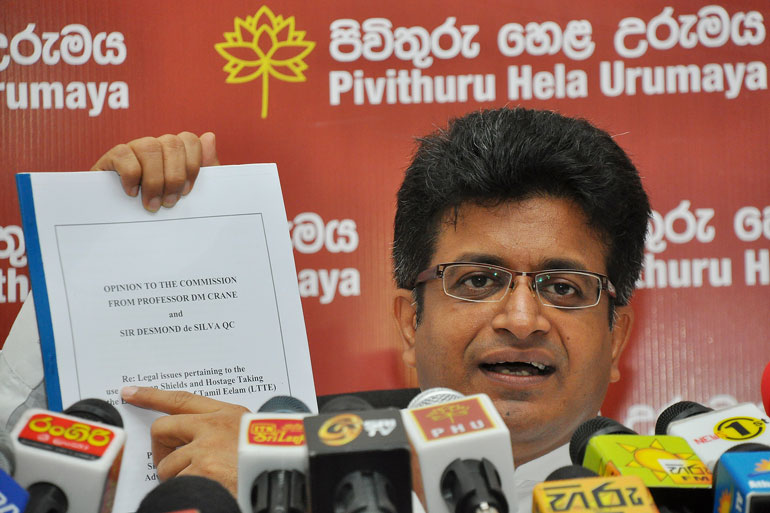 PHU leader Udaya Gammanpila shows the report of Prof. D. M. Crane and Sir Desmond de Silva QC at the Press Conference yesterday – Pic by Shehan Gunasekara
By Chamodi Gunawardana

Pivithuru Hela Urumaya (PHU) Leader and MP Udaya Gammanpila yesterday stressed that he would table the Sir Desmond De Silva QC's report regarding alleged war crimes, if the Government is unable to do so.

Sir De Silva handed over a recommendation report to the past regime on 23 February 2014 regarding his legal views over alleged war crimes that took place in Sri Lanka.

Addressing a media briefing, Gammanpila asserted the Government should table the report within 24 hours, and prior to the parliamentary debate on the resolution co-sponsored by the US and Sri Lanka scheduled on today.

"A British lawyer and QC De Silva lodged this report with his expertise and experiences on war crime investigations and he has recommended that Sri Lanka was free of war crimes or crimes against humanity. The report would be better evidence to prove our blamelessness," he said.

"However if I table the report on behalf of the Government, it will be treated as a violation of parliamentary traditions, but I will do it," he further warned.

When asked by the media why the past Government did not make public the report Gammanpila said, "The requirement of evidence to show our innocence is raised now, and was not raised then."
"All parties will present at party discussion today": Gammanpila
Pivithuru Hela Urumaya (PHU) Leader and MP Udaya Gammanpila yesterday predictably said that party leaders will attend the hypothetical discussion of all parties regarding a war crimes mechanism organised by President Maithripala Sirisena today.

"I could not confirmedly say that every party leader will be present, but most of them will attend to express their opinions on a proposed international war crimes mechanism," he stated.

President Sirisena has invited all party leaders into a special meeting today to discuss a suitable war crimes investigation mechanism. The final decision regarding the Government's actions on the formation of a domestic mechanism would be taken after this discussion.