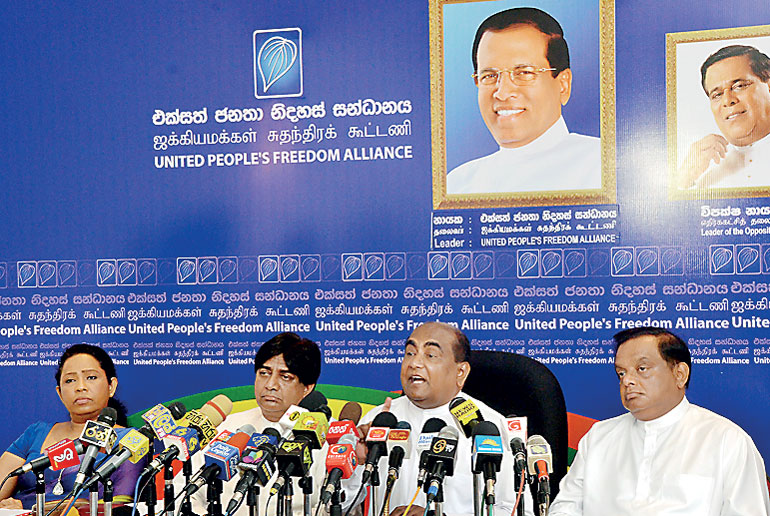 At the head table from left: SLFP Ministers Pavithra Wanniarachchi, Dilan Perera, Mahinda Yapa Abeywardena and C.B. Rathnayake who resigned from their portfolios yesterday – Pic by Shehan Gunasekara
By Chamodi Gunawardana

Four Sri Lanka Freedom Party (SLFP) Ministers yesterday resigned from the Government after stating that Prime Minister Ranil Wickremesinghe and the United National Party (UNP) could not work supportively with other parties.


Parliamentarians Dilan Perera, Mahinda Yapa Abeywardena, C.B. Ratnayake and Pavithra Wanniarachchi told the media that they would hand over their letters of resignation to President Maithripala Sirisena, the SLFP Chairman.


Perera revealed that they had all tried hard to work with the Prime Minister and the UNP but had failed to do so.


"Wickremesinghe tried to sabotage the passing of the 19th Amendment and tried to put the blame on SLFP by saying that we were not being supportive. At present Wickremesinghe is enjoying the premiership that he obtained because of President Sirisena while the President struggled alone to pass the 19A in Parliament," Perera said.


He also said that it was up to the people to decide whether they wanted good governance under President Sirisena or a deceitful Government led by Prime Minister Wickremesinghe at the forthcoming general election.


Perera predicted that those who resigned from their ministerial portfolios would become the next victims of the Police's Financial Crimes Investigation Division (FCID).


"However, we are planning to build a United People's Freedom Alliance (UPFA) Government in the future and currently we are trying to improve harmony within the SLFP," Perera emphasised.


Abeywardena explained that his decision to resign from his ministerial position was taken independently.


"The Government promised in the Interim Budget that it would provide a concession package of Rs. 10 million for each Parliamentarian to fund rural development projects. Nevertheless, this money has not been given yet and as a result the development projects have come to a halt. We believe that the UNP was only funding their members to work on rural projects. They have neglected the SLFP completely," Abeywardena pointed out.


Abeywardena charged that the UNP Government was making them feel uncomfortable by not treating the SLFP equally as was required in National Government policies.


"Last week some of the local government bodies were dissolved and the Government handed over those powers to politicians. However, the Government does not have any right to do so," Abeywardena said.