Finance Minister Ravi Karunanayake met with the International Monetary Fund (IMF) Head and Melinda Gates in New Delhi, the Ministry said in a statement yesterday.

The meeting with IMF Managing Director Christine Lagarde comes as the Government continues to negotiate a programme with the international monetary organisation. Karunanayake met the both officials when he participated at the conference, 'Advancing Asia: Investing for the Future; jointly organised by the Government of India and the IMF.

Melinda Gates, Co-chairperson of the world-recognised Bill and Melinda Gates Foundation, also participated in this discussion.

The meeting came after India approved a $700 million currency swap of dollars for Sri Lankan Rupees until the island nation receives an International Monetary Fund loan on Friday.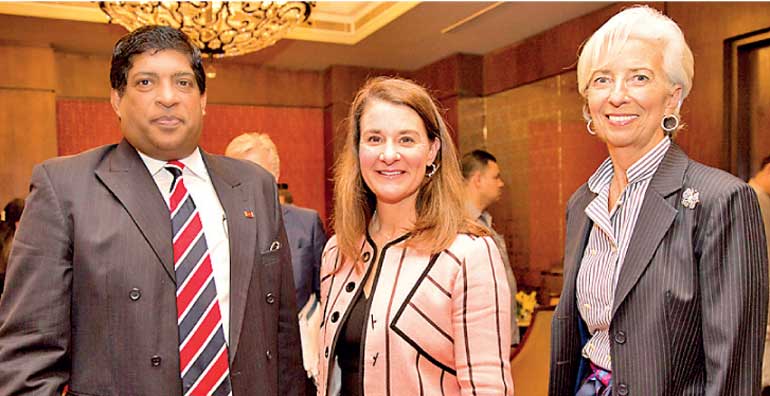 Sri Lanka is facing a balance-of-payments crisis after a third of its foreign exchange reserves has been depleted within the 15 months to January as the Central Bank heavily defended to the rupee, while strong imports in a lower interest rate regime also increase dollar outflows, Reuters reported earlier.

The Indian Cabinet approved the swap for three months or "till the time Sri Lanka avails the IMF facility, whichever is earlier", India's Press Information Bureau said in a statement.

The Cabinet also gave retroactive approval for an extension of an existing $1.1 billion swap from the Reserve Bank of India, which was to be repaid on 3 March, through to 8 March.

"Approval of this proposal will provide a temporary relief to Sri Lanka till alternative arrangement is in place," it said, adding that the move would help in strengthening Sri Lanka's economic stability and official reserves.

President Maithripala Sirisena's Coalition Government is expected to receive a $1.5 billion IMF loan to boost foreign exchange reserves. Finance Ministry officials say the negotiations are due to start later this month.

Sri Lanka's official reserves edged up 4.2% to $6.57 billion by end February, compared with a month ago, while the government's foreign currency repayments in the next 12 months was at $4.57 billion, latest Central Bank data showed.

Sri Lanka has suffered a foreign outflow of around Rs. 210 billion ($1.45 billion) or 46% percent from Government securities since January 2015 on speculation over the US Federal Reserve's interest rate hike.