26 "reasonable" recommendations made
Public should debate points, politicians should provide solutions
Gender equality, campaign financing are key concerns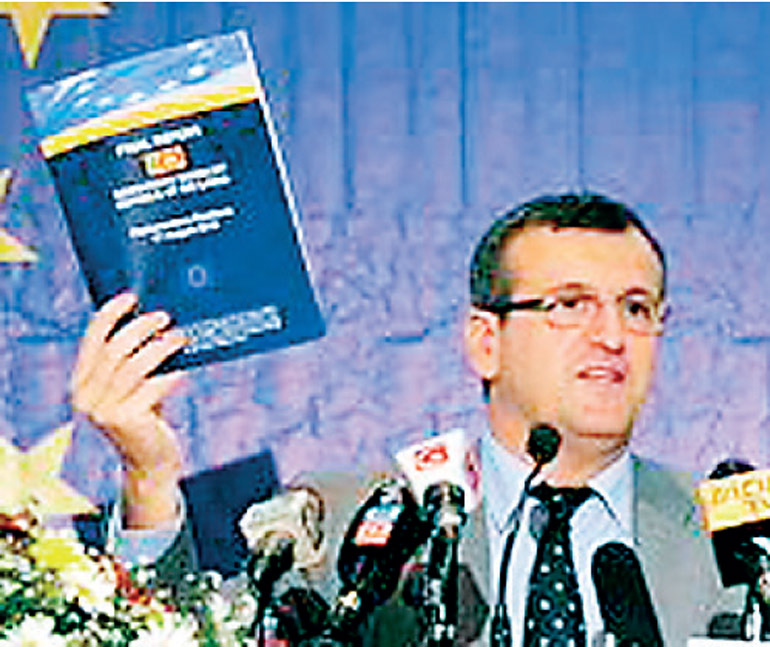 Chief Observer Cristian Preda
By Shiran Illanperuma

EU observers on Saturday revealed their final report on the parliamentary elections. The 50-page document came to a positive conclusion and posed 26 "reasonable" recommendations which Chief Observer Cristian Preda said was for the public to debate and politicians to act upon.

The 26 recommendations covered a broad range of areas including legal frameworks, electoral administration, voters registration, campaign environments, complaints and appeals, gender equality, media, voter education and election observation.

The report assessed that electoral proceedings during the parliamentary elections offered voters a range of political alternatives to choose from. It also asserted that the media played a key role, enjoying unprecedented freedom in covering election events from multiple perspectives.

While the outlook of the report's recommendations was mostly positive, certain areas were singled out as particularly worrisome by EU observers. For instance on gender equality Preda highlighted the need for more progress saying. "We recommend temporary special measures to increase the representation of women in politics and in key positions in the public sector."

Preda also made note of the fact that some nations with the highest levels of representation of women in politics were not western countries citing Rwanda in particular where 60% of parliamentarians are women. "There is no particular model we recommend, it is up to the people and the country to develop suitable measures," said Preda.

Campaign financing was another area Preda singled out. When the FT pressed for specific recommendations, Preda declined from a prescriptive response. "You could put a limit on the campaign spending. Or put a limit on individual contributions. There are different systems but it's up to the politicians from this country to choose the perfect system," he said.

Preda also insisted the recommendations existed to be debated in public. On campaign financing, he said, "Society needs to answer some very interesting questions. How much money do you want to spend for elections? Do you want to spend a lot of money or be more modest and spend on other things like for example education?"

"The regulations are important for equality; if you do not have some limits then inequality could be very big. During a competition you need some conditions at the beginning to assure certain degrees of fairness," he said.

The report has already been presented in private to government officials according to EU observers. However, Preda refused to divulge the reaction received and assured that local government officials would release official statements on the report in due time.

This year marks the first time in 10 years that the EU Election Observation Mission has been invited to observe electoral proceedings in the country. The last time was in 2005 when the island was still gripped in civil war.

The report was compiled from the reportage 85 EU observers who remained in Sri Lanka from 14 July to 4 September.