By Chamodi Gunawardana

The Pivithuru Hela Urumaya (PHU) yesterday alleged that the Government has forced the intelligence officers arrested in regard to the murder of journalist Prageeth Eknaligoda, to accept allegedly false charges lodged by the Police.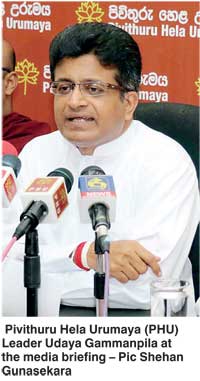 PHU Leader and MP Udaya Gammanpila claimed the said officers were held in the Welikada Remand prison without clear evidence.

"I visited them in prison and I want to reveal the bitter truth of this arrest to the public which they told me. All of them were forced by the Police to accept the allegation of murdering Eknaligoda and said if they admit the charges they would be released as soon as possible," Gammanpila alleged.

He said the Police have urged them to give statements alleging the murder was carried out under the orders of former defence secretary Gotabaya Rajapaksa.

"Lieutenant Colonels Shammi Karunaratne and Praboda Weerasekara, Sergeant Major Upasena and retired Corporal Ranjith Rupasena were forced by the Police to do so. Their wives have been urged over the phone, to not contradict their statements," Gammanpila claimed.

The PHU leader charged that the Government is attempting to stain the respectable character of the ex-defence secretary Rajapaksa and cover the real murderer of Eknaligoda by punishing innocent intelligence personnel.

Prageeth Eknaligoda went missing 24 January 2010. Recently several military personnel were arrested by the Criminal Investigation Department (CID) in connection to his alleged murder. The charges against them included killing Eknaligoda at the Trincomalee Point Army Camp and sinking his body in the seas off the Eastern shoreline.