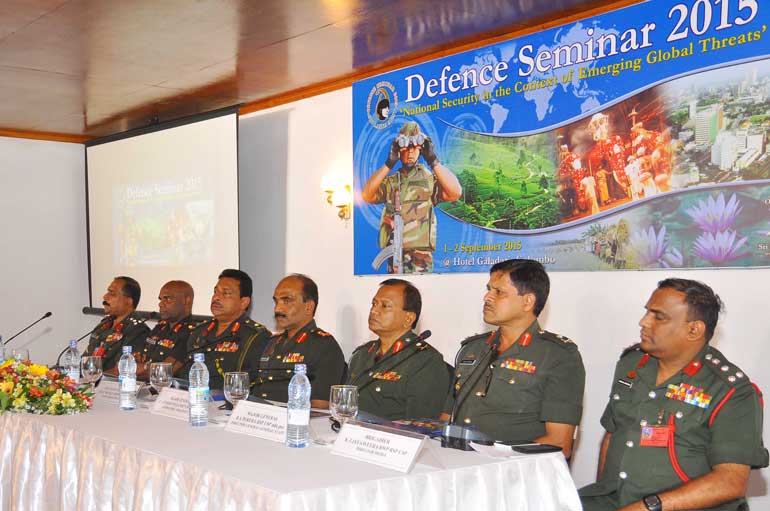 The final touches are now being put to the annual flagship project of the Sri Lanka Army, 'Defence Seminar - 2015', which will get underway from 1-2 September at the Galadari Hotel, with the attendance of more than 350 participants, including 62 foreign delegates and distinguished statesmen.

This year's sessions, entitled 'National Security in the Context of Emerging Global Threats', are segmented into nine sessions under subthemes such as 'Nature of Threats Affecting the National Security of a Nation', 'Emerging World Order', 'Terrorism and Challenges to National Security' and 'Non-military Threats to National Security'.

Additionally, a separate expert panel comprising professors, security and military experts and administrative officers at the foreign and national level will contribute to the second day's 2 sessions. A preparatory session for the participants has also been included on the agenda.

Former Afghan President Hamid Karzai, Defence Secretary B.M.U.D. Basnayake and Army Commander Lieutenant General Chrishanthe de Silva are scheduled to deliver the keynote address and introductory remarks respectively during the opening sessions on the first day.

Christoper Coker, Professor of International Relations at London School of Economics, Dr. Matteo Legrenzi, Associate Professor of International Relations School of International Relations, Ca' Foscari University of Venice, Yashvardhan Kumar Sinha, High Commissioner of India to Sri Lanka, Dr. W. Lawrence S. Prabhakar, Professor of Strategic Studies and International Relations, Department of Political Science, Madras University, India, Maj. Gen. (Retd.) Syed Shakeel Hussain High Commissioner of Pakistan to Sri Lanka, Lady Olga Maitland, Former President of the Defence and Security Forum (UK), Dr. Uttam Sinha, former Indian representative, Council for Security Cooperation in Asia.