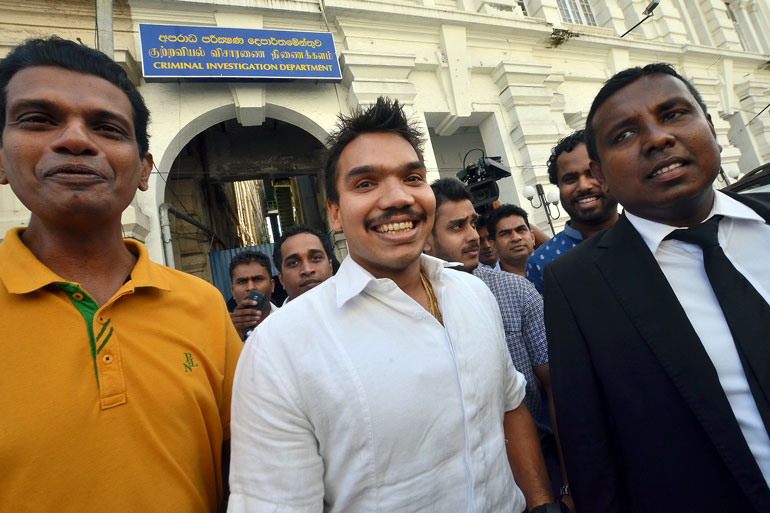 MP Namal Rajapaksa arrives out of the CID after giving the statement - Pic by Shehan Gunasekara
Hambantota District UPFA Parliamentarian Namal Rajapaksa was questioned yesterday by the Criminal Investigation Department (CID) for five hours over the alleged security breach during a rally attended by President Maithripala Sirisena

The son of former President Mahinda Rajapaksa was summoned to the CID to record a statement on the incident in which an army corporal has breached President Maithripala Sirisena's security at a SLFP meeting in Angunukolapelassa.

He was also questioned about Southern Provincial Council Minister D.V. Upul, who in his presence, had threatened to stone to death the police officers attached to the Financial Crime Investigation Division (FCID).


A corporal attached to Rajapaksa's security detail, was arrested by CID detectives earlier and produced before the Agunukolapelassa Magistrate on May 2 for carrying a pistol at a meeting attended by the President at Angunukolapellassa on April 25.


At a May 31 public gathering which was attended by Rajapaksa and several other politicians representing the Hambantota District, Upul had threatened to stone to death the FCID officers after former president Mahinda Rajapaksa returns to parliament as prime minister.

"I was questioned about the 'water bottle' incident and the remarks made by provincial minister D.V. Upul. I extended my support to the investigations and hope I will be summoned again under 'yahapalanaya'," Rajapaksa told the media outside the CID office.