Customs still not clear on Glyphosate import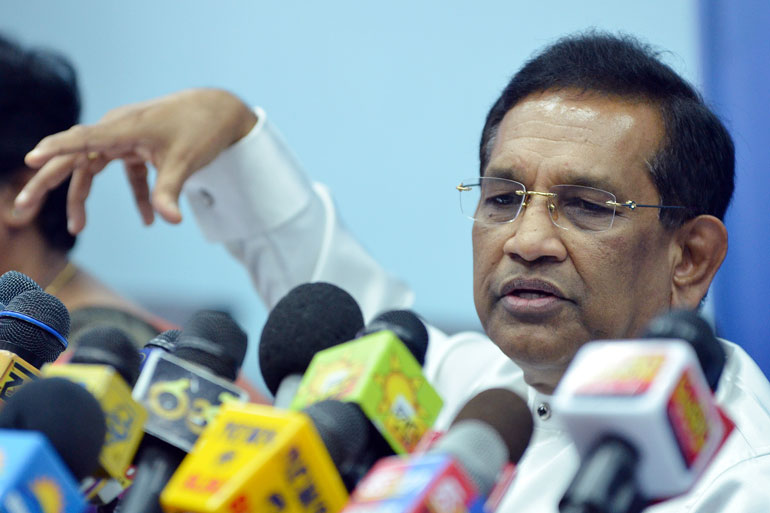 Cabinet spokesman, Rajitha Senaratne – Pic by Shehan Gunasekara
By Charumini de Silva

Despite the President's order to ban the import of Glyphosate with immediate effect from 22 May, the Cabinet gave its approval over the matter only five days after this date.

Addressing the weekly Cabinet briefing, Cabinet spokesman, Rajitha Senaratne explained that from 27 May the import of Glyphosate has been halted.

"At present there are three containers in the port but the Cabinet decided not to release them but destroy them," he added.

However, when asked whether the Glyphosate containers could be re-exported, the Minster replied that it was possible but if importers did not want them back then the Glyphosate containers had to be destroyed.

Meanwhile, Customs Department Acting Director General R. Semasinghe said yesterday that although the Government had made a decision to ban the import of Glyphosate there was an issue concerning this as it had to be imported for tea cultivation.

Addressing a media conference organised by the Finance Ministry, Semasinghe asserted that they were informed of the Government's decision and promised that they would inform the public on how it would be implemented once they got clear directions from the Cabinet.

"Glyphosate is not a banned product; instead it is a restricted product. All 15 containers that were released had the relevant import license to be brought to Sri Lanka," he added.

In spite of the Government claiming that they had banned Glyphosate in Sri Lanka, Semasinghe claimed that the Cabinet on Wednesday had only submitted a proposal seeking the ban of Glyphosate, which, according to his knowledge, had still not been approved.