By Chamodi Gunawardana

The Bodu Jana Peramuna (BJP) yesterday stressed that all Sri Lankan political leaders should work toward unity in the national interest by ignoring their political differences.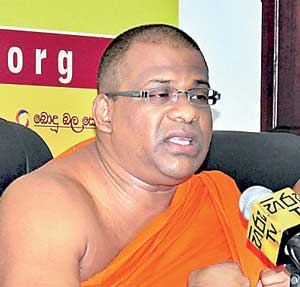 Bodu Bala Sena (BBS) General Secretary Galagodaththe Gnanasara Thero said: "Prime Minister Ranil Wickremesinghe and former President Mahinda Rajapaksa should not behave as enemies due to political reasons. Ex-President Rajapaksa should not treat former President Chandrika Bandaranaike Kumaratunga as an enemy too," Gnanasara Thero asserted.

"Former Defence Secretary Gotabaya Rajapaksa and Field Marshal Sarath Fonseka, Jathika Hela Urumaya (JHU) General Secretary Champika Ranawaka and Pivithuru Hela Urumaya Leader Udaya Gammanpila, National Freedom Front Leader Wimal Weerawansa and the Janatha Vimukthi Peremuna (JVP) also should not treat each other with enmity," Gnanasara Thero added.

Gnanasara Thero reiterated that these leaders should work under a new national policy which would defeat separatism.

"The BJP expects to bring all leaders on one track and they will follow the same national policy. We should defeat our common enemy, which is separatism, in order to develop this country," Gnanasara Thero said.

Talking about the BJP's preparation for the forthcoming election, Gnanasara Thero said that the BJP had handed over its nominations for 16 districts.

"We completed a nomination list for 17 districts but the Matara District list was rejected. However, we have appointed one monk for each district to organise election campaigns. I will contest from the Kalutara District," Gnanasara Thero explained.