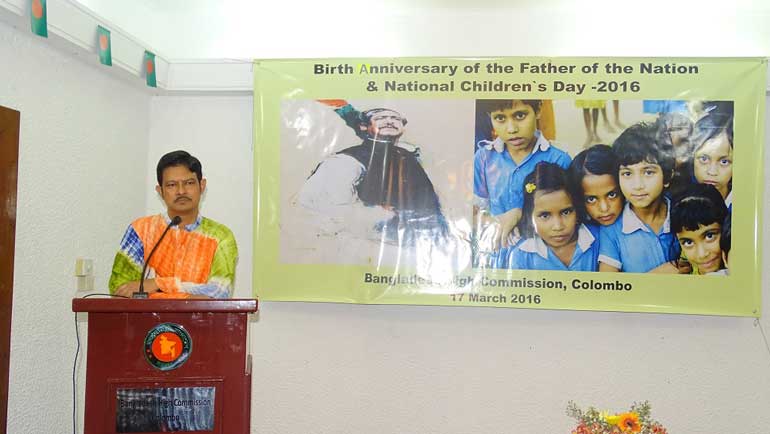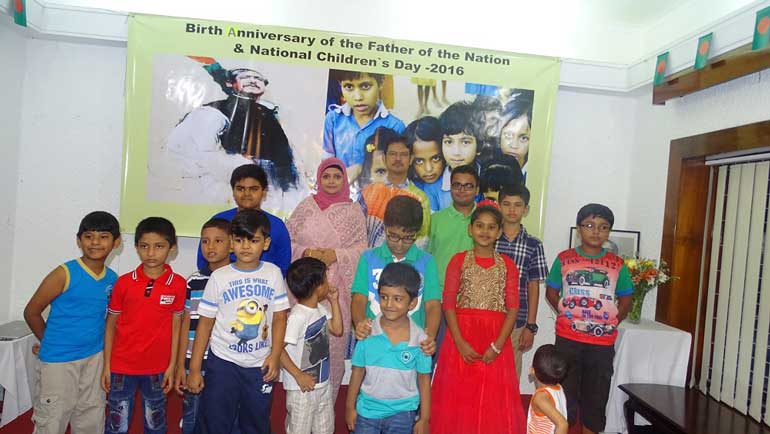 The Bangladesh High Commission in Colombo observed the 96th birth anniversary of the Father of the Nation Bangabandhu Sheikh Mujibur Rahman and National Children's Day on Thursday (17 March) in a befitting manner. A colourful program was organised at the Chancery premises with the participation of the expatriate Bangladesh community in Sri Lanka and the officials and staff of the High Commission along with their families.

The event started at 7 p.m. with the placing of a flower wreath at the portrait of the Father of the Nation by the High Commissioner Tarik Ahsan. This was followed by cutting of cake; reading out of the messages released on this occasion by the President, Prime Minister and the Foreign Minister; discussion session on the life of Bangabandhu; and prize giving ceremony for the participating children of essay competition. A documentary on the life of the Father of the Nation titled 'Bangabandu: Our Great Leader' was screened.

The Bangladesh High Commissioner, while delivering his concluding remarks, highlighted the contribution of Bangabandhu not only to achieving independence of Bangladesh but also to founding Bangladesh on a system free from exploitation, discrimination and communalism that is conducive to the development of individual excellence and progress of society. He viewed that the children will have to play the main role of actualising the Vision-2041 for transforming Bangladesh into a developed country by the year 2041 by pursuing the ideals of Bangabandhu that are relevant even today.

The program was rounded off with a buffet dinner.

Around 70 people took part in the event. The spontaneous participation of children of expatriate Bangladesh community and of the Mission officials and staff made the program a lively event.