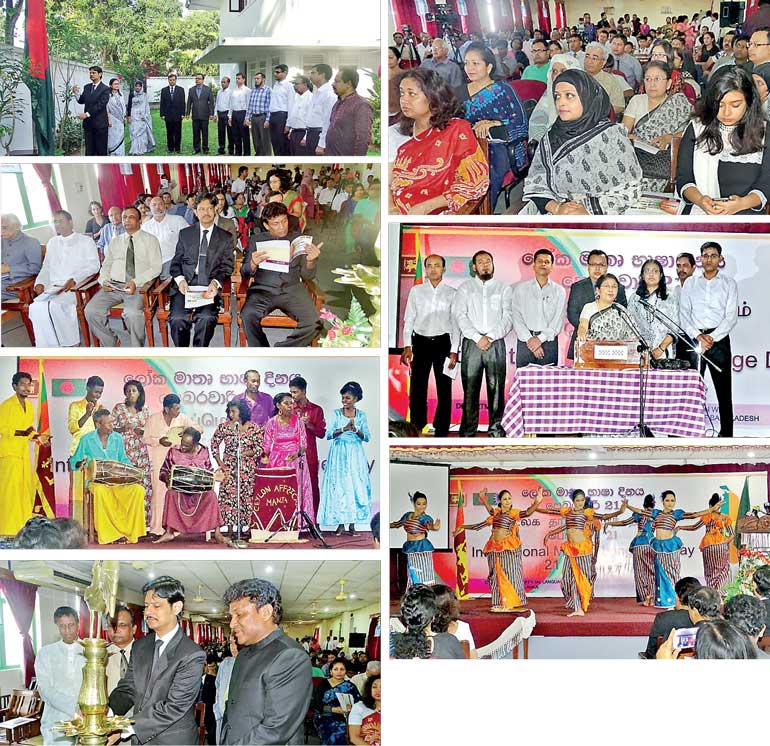 The Bangladesh High Commission in Colombo and the Department of Official Languages of Sri Lanka jointly celebrated International Mother Language Day in Colombo on 21 February 2016. On this occasion, a discussion-cum-cultural event was organised at the auditorium of the Department of Official Languages. Minister of National Co-Existence, Dialogue and Official Languages of Sri Lanka, Mano Ganeshan attended the program as the chief guest, while Bangladesh High Commissioner Tarik Ahsan was the guest of honour.

The main attractions of the celebration included playing of national anthems of both Bangladesh and Sri Lanka, inauguration by lighting of traditional oil lamps, discussions on the significance of the day, cultural performances including the singing of the Bengali song "Amar Bhaiyer Rokte Rangano Ekushey February" (My Brothers Blood Spattered 21 February) and distribution of a souvenir booklet on the occasion. Minister Mano Ganeshan presented a plaque to the High Commissioner Tarik Ahsan. The main part of the program began with the welcome address by Assistant Commissioner of Official Languages Sanoji Perera and ended with the vote of thanks by Counsellor of the Bangladesh High Commission Maleka Parveen.

The event was attended by about 250 guests that included academics, cultural personalities, members of civil society, members of small ethnic communities, representatives of diplomatic missions and heads of cultural centres of some countries, senior government officials, members of expatriate Bangladesh community, officials and staff of Bangladesh High Commission including their families.

Discussants including Prof. Emeritus J.B. Dissanayaka and Prof. S.J. Yogarajah lauded the role of Bangladesh in declaration of International Mother Language Day by UNESCO and attached importance to some reforms in the languages to make them more organised and user-friendly. In his address, Minister Mano Ganeshan paid tribute to the language martyrs of Bangladesh. He stated that, in keeping with the ideals of the International Mother Language Day, his Ministry is undertaking efforts to implement the Constitutional direction to establish a trilingual society based on peace and harmony. High Commissioner Tarik Ahsan, paying homage to the language martyrs, explained how the universal appeal of love of Bengalis for mother language was the prime mover for declaration of International Mother Language Day on 21 February by UNESCO in 1999. He also underscored the need of glorifying and developing mother languages of all peoples, particularly for addressing the contemporary challenge of preservation of cultural identities in the face of increasing influence of foreign languages through globalisation and digitalisation.

Earlier in the morning, the National Flag of Bangladesh was ceremonially hosted at half-mast by High Commissioner Tarik Ahsan at the Chancery premises in presence of officers/staff of the High Commission and the members of Bangladesh community. Then, one-minute silence was observed in memory of the language martyrs. Messages from the President, the Prime Minister, the Foreign Minister and the State Minister for Foreign Affairs released on the occasion were read out by the officials of the High Commission.