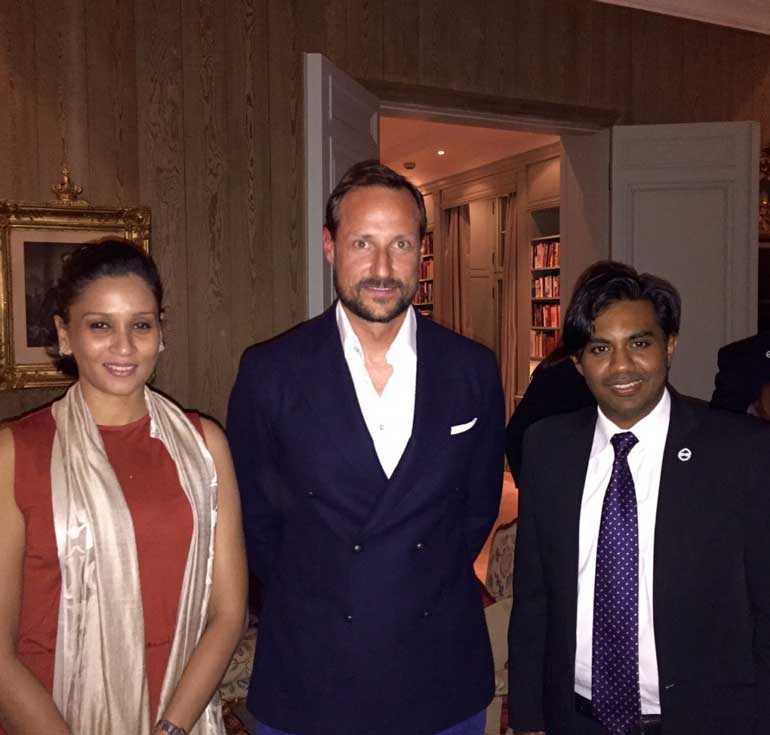 Crown Prince Haakon of Norway with Asanga Abeyagoonasekera and his wife Kumudu at Skaugum Palace, Norway
Crown Prince Haakon of Norway invited Asanga Abeyagoonasekera who is the Global Dignity Country Chair for Sri Lanka to participate in the fifth Annual Global Dignity Country Chair Summit in Oslo Norway from 10-13 May.

In 2012 Abeyagoonasekera was chosen as the Country Chair by the Crown Prince and the Board of Management of Global Dignity. Global Dignity is the brainchild of Crown Prince Haakon (Norway), Professor Pekka Himanen (Finland) and founder of Operation HOPE, John Hope Bryant (United States). The Honorary Board is made up of individuals who have advanced social causes and spread Global Dignity values in their own work, including: President Marti Ahtisaari, Sir Richard Branson, Professor Amartya Sen, Archbishop Emeritus Desmond Tutu and Ambassador Andrew Young.


Global Dignity is an independent, idealistic and politically neutral initiative. The vision of Global Dignity is to promote dignity-centred leadership, to foster global dialogue on dignity and to engage young people in discussion about the meaning and importance of dignity.