The Sri Lanka Army last week commemorated the 26th death anniversary of war hero Hasalaka Gamini Kularatne, the Sri Lankan soldier who saved the lives of hundreds of his comrades when the LTTE laid siege to the Elephant Pass camp in July 1991.

The 26th death anniversary ceremony of Corporal Gamini Kularatne of the 6th Battalion of the Sri Lanka Sinha Regiment (SLSR) took place at the Hasalaka Gamini Kularatne Memorial at Elephant Pass.

On 14 July 1991, during the attack on the Elephant Pass camp by thousands of LTTE terrorists, then Lance Corporal Kularatne, despite sustaining injuries in the battle, climbed atop a bulldozer laden with explosives driven into the besieged camp by the LTTE and lobbed two grenades, effectively destroying the monstrous weapon and killing himself.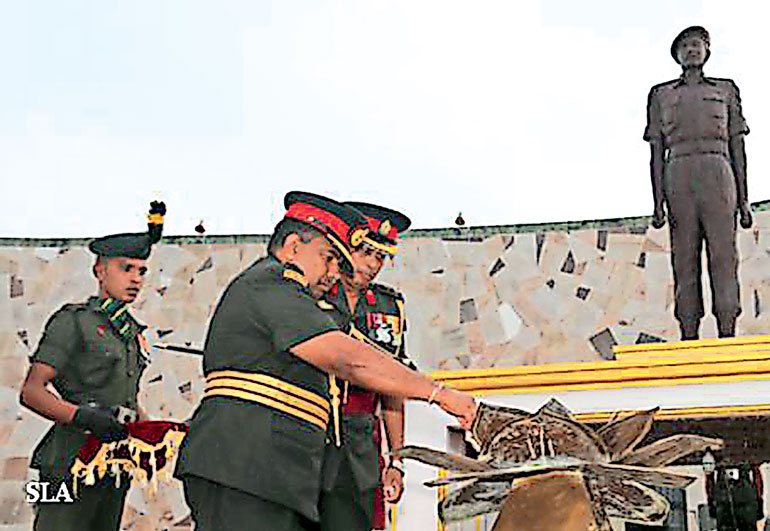 The sacrifice Corporal Kularatne made with his life prevented the enemy's entry into the camp and ended the siege of the camp, saving the lives of hundreds of soldiers.

Major General Duminda Keppetiwalana, GOC, 66 Division, representing the Kilinochchi Commander, together with family members of the late war hero, placed floral wreaths at the monument and paid their respects as the formal Last Post was sounded, paying due honour to his memoryThe monument to Hasalaka was set up at Elephant Pass with the remnants of the very bulldozer he destroyed.

The commemorative event, organised by the 66 Division and the 662 Brigade, consisted of an all-night Pirith chanting ceremony near the Hasalaka Gamini Kularatne Memorial, followed by an almsgiving the following morning.

Corporal Kularatne, who was a monk before joining the army, was a survivor of the Aranthalawa Massacre on 2 June 1987 where the LTTE massacred 33 Buddhist monks.

Corporal Kularatne was the first recipient of the Parama Weera Vibhushanaya, the highest award for gallantry awarded by the Sri Lanka Army.