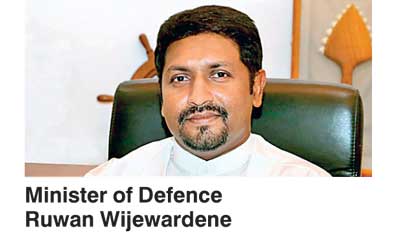 Security forces and police have the necessary strength to restrain any armed group and no external party will be allowed to take the law into their hands, the State Minister of Defence Ruwan Wijewardene said.

Speaking at a meeting in Biyagama on Saturday, the State Minister said that after the end of the three-decade-long war the Government had taken strict measures to beef up security in the country.

He rejected the allegations made by some elements that the Government had a political and military connection to the Aava group in the North. He said the security forces had already identified the members of the Aava group and they would soon be taken into custody. They will be produced before courts and action will be taken against them in accordance with the law, the State Minister said.
Police arrest six members of 'Aava gang' terrorizing North
The police have arrested as many as six suspected members of the 'Aava Gang', who are terrorizing the people in the North, in Jaffna.

The Terrorism Investigation Division of Sri Lanka Police has arrested two brothers suspected to be members of the gang at Uduvil in, Jaffna last night, while four others were arrested earlier yesterday.

Police are on the hunt for the members of the sword-wielding motorcycle gang who claimed responsibility for the attack on two police detectives in Jaffna recently.

The security forces and the police in the North have already identified the members of the Aava gang and they will be arrested soon, the State Minister of Defense Ruwan Wijewardene said.