Reinstatement follows directive by President
Rajapaksa was suspended from SLN in 2016 over FCID money laundering charges investigation
Reinstatement effective from 28 Feb. 2016
Yoshitha Rajapaksa, the second son of former President Mahinda Rajapaksa, was reinstated as a Lieutenant in the Sri Lanka Navy on Wednesday, on a directive from President Maithripala Sirisena.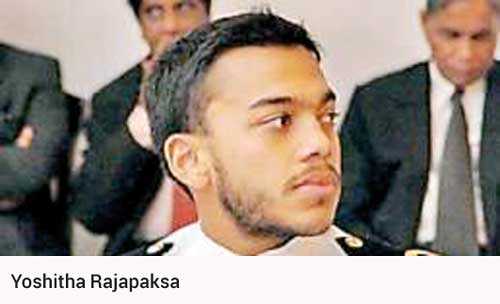 Navy Commander Vice Admiral Piyal de Silva signed the papers reinstating Rajapaksa, who was suspended from the Navy with effect from 28 February 2016, as he was being investigated on money laundering charges by the Financial Crimes Investigation Division (FCID). The reinstatement will be effective from February 28, 2016 and Rajapaksa would be entitled to back wages, including his salary and other allowances, Navy Spokesman Lieutenant Commander Isuru Sooriyabandara said.

He said that the details of the reinstatement have been sent to the Government Printer to be published in the Gazette.